2024 Renault Espace Dumps Being A Minivan For A 7-Seater Crossover SUV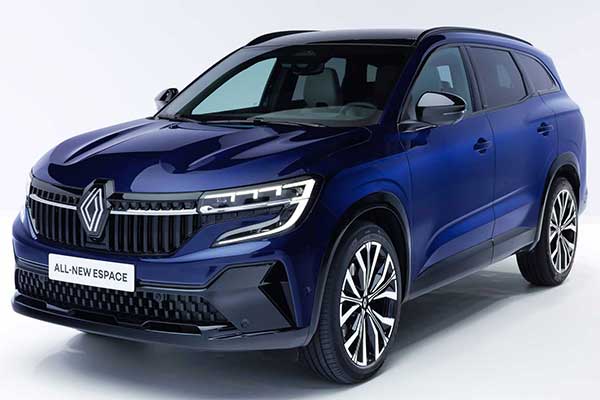 Many may or may not be familiar with the Renault Espace but it was an iconic vehicle for the French brand. Having made its debut way back in 1984, it was among the first true modern MPV. It has gone through a dramatic change and become a 7-seater crossover SUV which is surprising to many.
At the first glance, it is obvious that the Espace is heavily based on the Austral since the SUVs are sharing most of their body panels including the identical front end. From the B-pillar and back the Espace has a greater volume and sports a different greenhouse and more upright tail, although it still incorporates familiar styling traits.
Accessible via a power tailgate, the cargo area varies from 5.6 cubic feet (159 liters) with all seven seats in place to a cavernous 64.2 cubic feet (1,818 liters) in the five-seat configuration with the second row folded. Renault mentions a volume of 27.4 cubic feet (777 liters) is available in the five-seat model when the rear seats are pushed all the way forward. An extra 1.37 cubic feet (39 liters) of storage are available throughout the cabin for smaller items.
Inside, the Espace exhibits the same upmarket design as the Austral, featuring Renault's OpenR display, comprising a 12.3-inch digital instrument panel and a 12.0-inch infotainment touchscreen. A panoramic sunroof – claimed to be one of the largest on the market, covering an area greater than a square meter – is also available.
Esprit Alpine ('spirit of Alpine') trim brings details inspired by Renault's sporting brand, including satin-grey paint with contrasting black details and Alpine-badged alloy wheels. The Alcantara-upholstered seats from the Austral Esprit Alpine are also likely to be included as part of the package.
Power comes from a 197bhp 1.2-liter conventional hybrid drivetrain, combining combustion power with a compact 2kWh battery and two electric motors. Four drive modes consist of running on battery power alone for a short time, a 'dynamic hybrid' mode which runs the car on its electric motors with constant charging of the battery from the combustion engine, an 'IC' mode which runs the wheels directly from the engine and a battery regeneration mode.