2500HP Ford GT Beats Hennessey, Bugatti And Koenigsegg To Become The First Street-legal Car To Hit 300 mph Barrier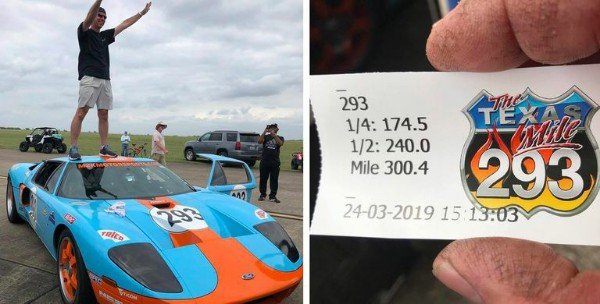 A street-legal Ford GT has officially
broken the 300 mph barrier in the standing mile, beating the Hennessey, Bugatti and Koenigsegg Hypercars to the feat.
The M2K Motorsports modified Ford GT broke the 300mph barrier on the last of its three runs at a standing-mile (within a mile run) event at Texas Victoria Regional Airport last weekend, hitting 300.4mph before deploying its parachute and hitting the brakes.
To put that in context , a Bugatti Chiron requires almost three miles to hit its limited top-speed of 261mph.
According to the event's sensors, the GT was going 174.5 mph after a quarter mile and 240 mph at the half-mile mark,before hitting the record-shredding 300.4mph.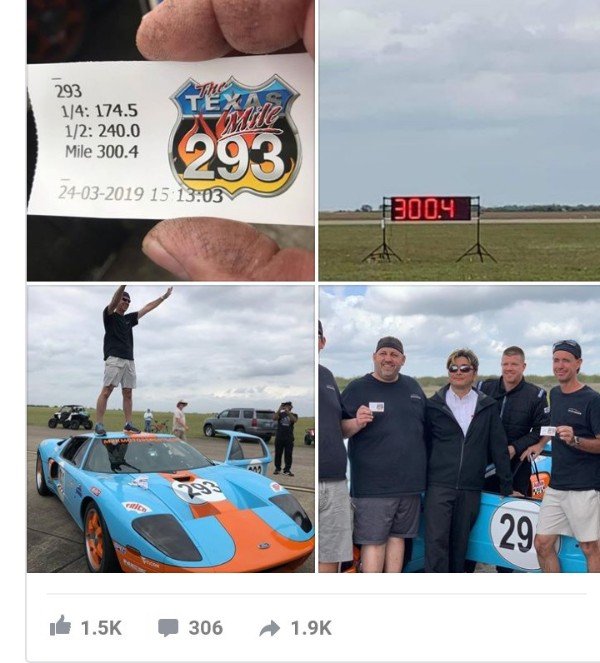 This same Ford GT hit a record 293.6 mph in 2017.It is now powered by a twin-turbocharged version of the standard 5.4-liter V8 engine that gives over 2000 horsepower at the wheels and roughly 2500 horsepower at the crank (no dyno can measure it properly).
Before this feat by a 14-year-old Ford GT, both Koenigsegg and Hennessey were aiming for the 300mph barrier with their latest multi-million dollar cars, the Jesko 300 and the Venom F5.
What Do You Think?