36 Fatal Plane Crashes In Nigeria (1948-2013)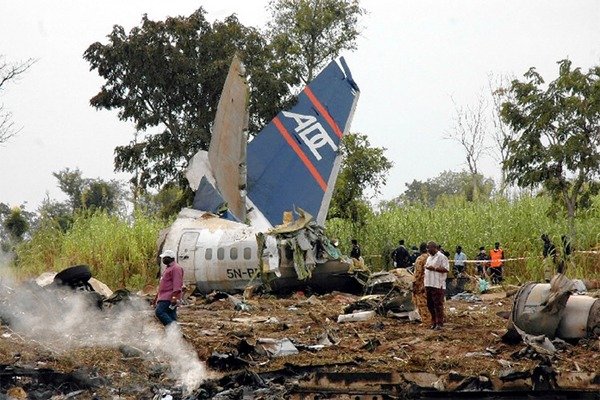 36 Fatal Plane Crashes In Nigeria (1948 – 2013)
The history of Nigerian aviation began in ​Maiduguri and ​Kano city, where the first aircraft landed in Nigeria on November 1, 1925.
It is exactly 95 years since the historic flights, involving three De Havilland DH 9A aircraft belonging to the Royal Air Force, RAF, of the United Kingdom.
Ever since then, the country has recorded some plane crashes.
In this article, we highlight fatal air crashes that have occurred in Nigeria since the advent of aviation in the country.
The first plane crash recorded was on April 10, 1948, in Kano. It involved an Air France Douglas DC-4 aircraft. It crashed and killed the only person on board.
A British -170 aircraft operated by West African Airways Corporation, crashed On July 27, 1951. No life was lost.
In February 1955 a WAAC plane from Enugu crashed in Calabar and 13 people died.
a British Overseas Airways Corporation (BOAC) four-engine Canadair C-4 Argonaut airliner G-ALHE crashed into a tree on departure from Kano Airport On June 4, 1956. 31 people lost their lives.
Nigerian Air Force jet aircraft, a single-engined British-built Provost, crash-landed on the edge of a lagoon near Porto Novo, Dahomey (now the Republic of Benin) on June 23rd 1969.
6.  On November 20, 1969, Nigeria Airways Flight 825, a Vickers VC-10 aircraft, from London en route Lagos with intermediate stops in Rome and Kano crashed while approaching Lagos, killing all 87 people, 76 passengers and 11 crew, on board.
7. Royal Jordanian Airlines flight 707 carrying 171 Nigerian Muslims returning from Mecca and 5 crewmen crashed in Kano on January 22, 1973, killing all on board.
8.  Nigeria Airways F28-1000 crashed in Kano on March 1, 1978, killing 16 people.
9. Nigeria Airways F28-1000 crashed near Enugu on November 28, 1983 killing 53 people on board.
10. Skypower Brandeironte aircraft overshot Ilorin Airport's runway in December 1988 killing all passengers on board.
11. British Helicopter crashed in Eket, Akwa Ibom State on February 24, 1991, killing all 9 people on board.
12. A Cessna Citation 550 of Ashaka Cement, Hombe crashed on May 21, 1991, killing all on board.
13. An Okada Air BAC-11 crashed in Sokoto on June 26, 1991, killing 3 persons.
14. Nigeria Airforce AC-130 plane crashed minutes after takeoff from Lagos on September 26, 1992, killing 200 people on board.
15. Harka Air Services Tupolev 34 crashed on landing in Lagos on June 24, 1995, killing 16 people.
16. Nigeria Airways Boeing 737-2F9 crashed on landing in Kaduna on November 13, 1995, killing 9 people.
17. A Nigerian Aviation Development Corporation (ADC) Airline Boeing 727-231 enroute Port Harcourt – Lagos with 142 passengers and 9 crews crashed on landing, plunging into the lagoon on November 7, 1996, killing all on board.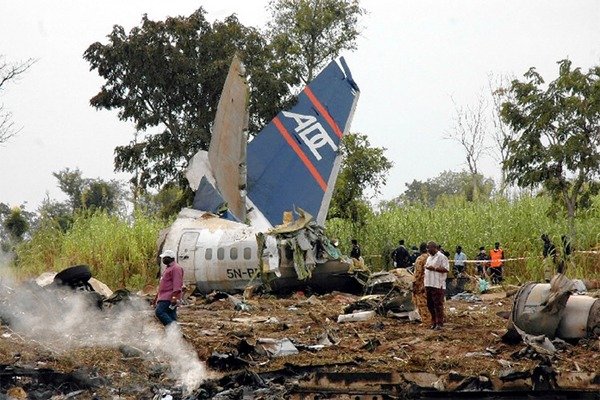 18. Skypower Express Airways Bandeironte 110PIA crashed on landing in Yola on January 31, 1997, killing 5 people.
19. Skypower Express Airways Bandeironte 110PIA crashed on landing at Abuja on January 5, 2000, killing 17 people.
20. EAS Airlines BAC 1-11-500 crashed and burst into flames in a densely populated suburb of Kano on May 4, 2002, killing 76 people on board and 72 others on the ground, bringing the total casualties to 148.
21. An aerial spray aircraft belonging to Berfieex Nigeria crashed in Bauchi on March 6, 2004, killing all on board.
22. Pan African Airlines' helicopter crashed into the Atlantic Ocean in Escravos, Delta State on July 26, 2004, killing 4 persons on board.
23. A NAF jet crashed into farmland in Yar kanya, Kano on January 28, 2005, killing all on board.
24. A Russian aircraft belonging to Harka Air crashed landed at the MMA on June 24, 2005, killing all people on board.
25. A Bellview Airlines Boeing 737 crashed shortly after takeoff from Lagos on October 22, 2005, killing all 117 people on board.
26. A Sosoliso Airlines DC-9 crashed in Port Harcourt on December 10, 2005, with 110 people on board, slammed into the ground and burst into flames. Immediately after the crash, seven survivors were recovered and taken to hospitals, but only two people survived.
27. An 18-seater Dornier 228 Air Force Transport plane, carrying 15 senior army officers and 3 crews crashed in Benue State on September 17, 2006, killing 15 people and leaving 3 survivors.
28. Aviation Development Corporation (ADC) Airline Boeing 737 with 105 people on board crashed soon after takeoff from Abuja Airport on October 29, 2006, killing all on board except 6.
29. OAS Service Helicopter crashed in Warri, Delta State on November 10, 2006, killing 4 people on board.
30. Beechcraft 1900D plane marked 5N-JAH, belonging to Wing Aviation crashed in Cross River State on March 15, 2008, killing all 4 crews on board.
31. An OAS helicopter crashed in Ife Odan in Osun State on July 29, 2011, killing all 3 people on board.
32. A Helicopter belonging to the Special task Force crashed on March 14, 2012 in Jos, Plateau State Capital killing 4 people on board.
33. A Dana Airlines plane crashed into a residential area in the suburb of Lagos on June 3, 2012, killing all 176 people on board.
34. A Nigerian Navy helicopter marked Helo 07 crashed in Okoroba community in Nembe, Bayelsa State on December 15, 2012, killing Governor of Kaduna State Patrick Yakowa, former NSA, General Andrew Azazi and 4 others on board.
35. Nigerian Military Plane Crashed in the Niger Republic, on Monday, May 6, 2013, killing 2 Pilots.
36. Associated Airlines Plane, Brazilian made Embraer 120, conveying the body of the former Governor of Ondo State, Olusegun Agagu Crashed in Lagos, on Thursday, October 3, 2013, killing 17 people.
Autojosh.com is an authoritative car blog in Nigeria. Its objective is to get Nigerians and a wider audience to be more informed about automobiles, the automotive sector and transport infrastructure. Over the years, we have been instrumental in creating immeasurable public awareness about automobiles and their maintenance, safety and traffic laws, amongst others. ...Your mobility, our priority. NK