A Sneak Peek At The Classy Cars That Will Feature In The Upcoming James Bond Film
Last month, AutoJosh revealed that the new £1.5m ( about ₦662m) Aston Martin Valhalla hybrid Hypercar will also feature in the upcoming James Bond movie.
The impressive new supercar, which has a top speed of 200mph, will star alongside Daniel Craig, together with two other Aston Martin's classic car – the 1987 V8 Vantage and the guns and ejector seat-laden DB5 from the early 1960s. The villains will also get behind the wheel of an old Land Rover Defender.
This recent photo, taken from inside Aston Martin's garage and shared by the official 007 instagram page, gives us a sneak peek at the several different luxury and classy cars that will feature in the latest 007 film.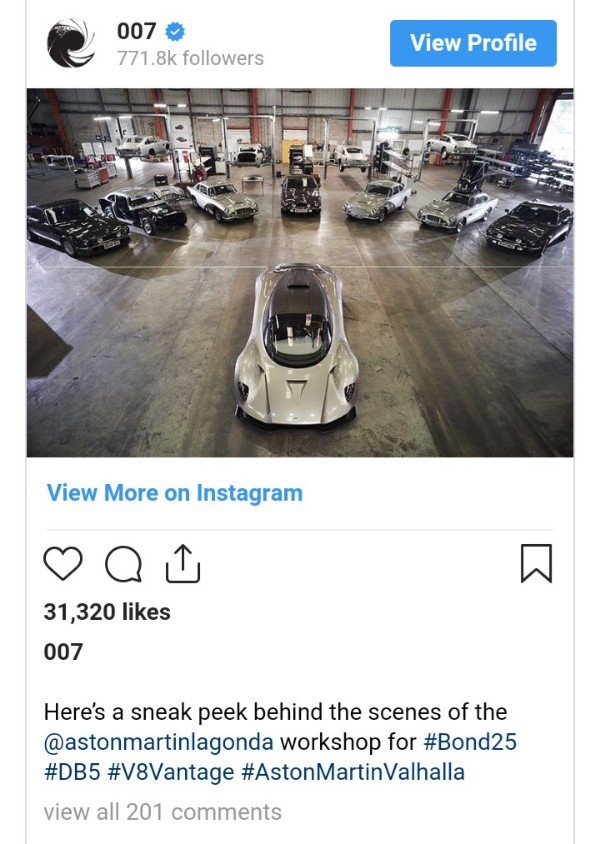 The picture shows one Valhalla, three V8 Vantages and eight DB5s in the Aston Martin warehouse. The multiple examples of the two classics suggests they will be used in action sequences, where filming requires multiple versions of each car to complete different elements of filming.
A vintage 1965 Aston Martin DB5 —similar to the type that will be used in the latest 007 movies, but fitted with replica machine guns, tyre slashers and smokescreen dispensers, is set to go up for auction for a whopping £4.7m ( about ₦2.1billion).
The yet to be named 25th instalment of the classic series is expected to be released in April next year.