Two Persons Died In Ondo Accident After Mercedes Crashed Into Motorcycle And Shop (PHOTOS)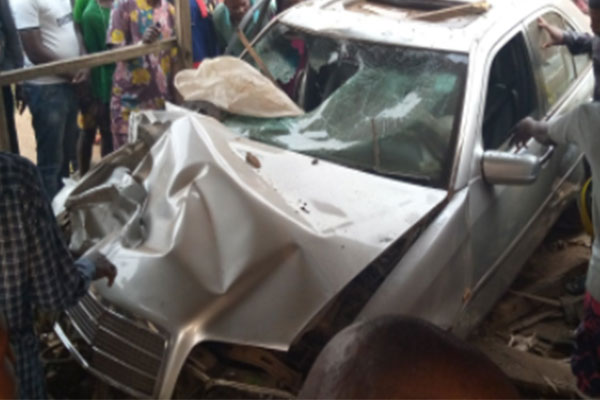 A fatal accident has claimed two lives in Ondo State after a Mercedes-Benz reportedly crashed into motorcycle and shop.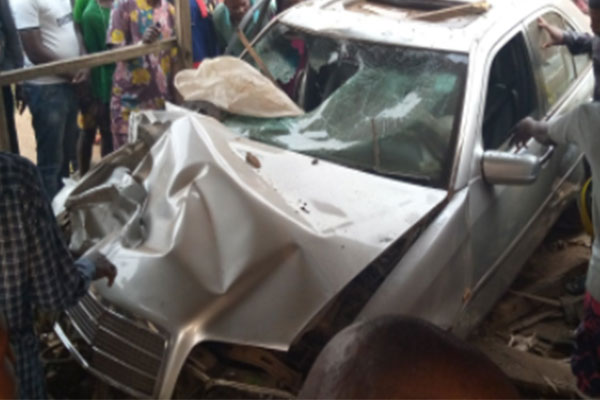 Two persons have reportedly died in a fatal accident that occurred along Agagu road in Ondo. The accident occurred towards Customs Junction in Akure, Ondo state on Monday January 25th.
According to reports, the accident happened after the driver of Mercedez-Benz crashed into the motorcycle before ramming into closed shops nearby.
The latest accident has generated missed reactions suggesting that the Ondo government is less prioritizing the welfare of the indigenes.
It comes few days after a truck rammed into some shops at Akungba Akoko in Akoko South West Local Government Area of Ondo State, killing nine people. The fatal crash occurred a few metres away from the main gate of the Adekunle Ajasin University.
The truck was reportedly coming from Ikare Akoko town in Akoko North-East Local Government Area of the state when it lost control before ramming into some set of shops along the road.
The video of gory casualties went viral where people were carrying out rescue operations at the scene. Witnesses at the scene told journalists that people carrying out rescue mission have recovered 12 bodies. However, FRSC spokesperson, Bisi Kazeem, said a total of nine persons were killed while nine others sustained various injuries.