Tesla Plunges 250 Feet Off California Cliff With All Passengers Surviving The Ordeal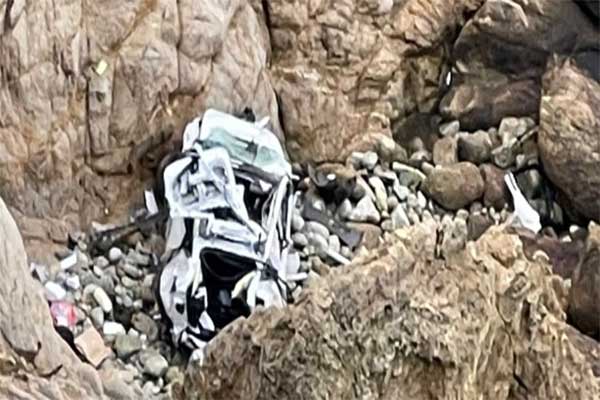 Two children and two adults miraculously escaped death after plunging 250ft off a California cliff in a Tesla. The group was driving along a dangerous stretch of road known as the Devil's Slide known for fatal car accidents. The adults had more critical injuries and were airlifted to the hospital. Meanwhile, the four- and nine-year-old children only had "mild to moderate" injuries.
According to reports, the crash occurred at 10:50 AM local time on Monday, January 2, 2023. The Tesla appears to have left the road on Highway 1 south of the Tom Lantos Tunnel. The authorities have made it clear at this point that Tesla's automated driving technologies are not being blamed for the incident. Instead, it appears that the Tesla driver may have been proceeding too quickly to keep proper control of the car
The incident turned from what had been probably a recovery of bodies to a rescue operation that took several hours amid constant rain, heavy winds, slick roads, and crashing waves. The doors were smashed against the cliff and jammed shut, so firefighters were forced to cut the victims out of the car using the so-called "jaws of life" tools. The kids were pulled up in a basket before the helicopters arrived to rescue the adults, who suffered more traumatic injuries.
Devil's Slide, which includes a 1.3-mile trail for hikers, runners, and cyclists, is as steep as it is rocky. The winding stretch, about 15 miles south of San Francisco, is notoriously hazardous to drivers ― and those who go over the cliffside rarely survive the fall.