Acura NSX Is Dead As Final Type-S Model Number 350 Has Been Built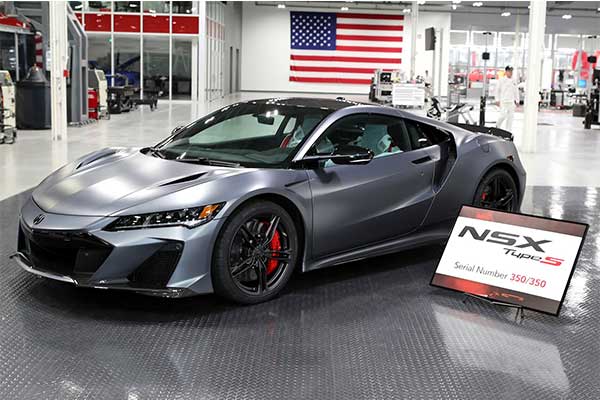 Production of the Acura NSX V-6 hybrid supercar came to an end this week at Acura's Performance Manufacturing Center in Marysville, Ohio. The second-generation NSX, sold in most markets around the globe as the Honda NSX, enjoyed a six-year run, with the final 2022 model year consisting of a special NSX Type S variant that spits out 600 hp.
The final NSX Type-S comes with a numbered plate "350/350" and is finished in Gotham Gray matte paint. Apart from being the final NSX Type S to have rolled off the line, this exact model is also the final second-generation NSX, marking the end of the hybrid Honda/Acura supercar. The waiting game for its successor now begins.
The second-generation NSX had an interesting life. Introduced in 2016 to replace the iconic original, it won Performance Car of the Year award in 2017 thanks to its, at the time, revolutionary three-motor hybrid powertrain and wonderful twin-turbo V-6.
Though sales numbers were dwarfed by competitors, the NSX managed to stick around for over six years, with roughly 1800 cars built. This might not be the last we hear of the NSX, of course. A rumor sparked by an executive suggests Honda might bring back its mid-engine supercar as a purely electric vehicle sometime in the near future. We'll just have to wait and see.
Meanwhile, as the PMC concluded its NSX production chapter, it now opens its doors to the limited-run production of the 2023 Acura TLX Type S PMC Edition. Of note, the total production for the TLX Type S PMC Edition will be limited to just 100 units of each NSX-derived color option: Curva Red, 130R White, and Long Beach Blue – the latter will be available for reservation starting December 8, 2022.