Acura ZDX Makes A Dramatic Return As An EV SUV With Up To 500 Hp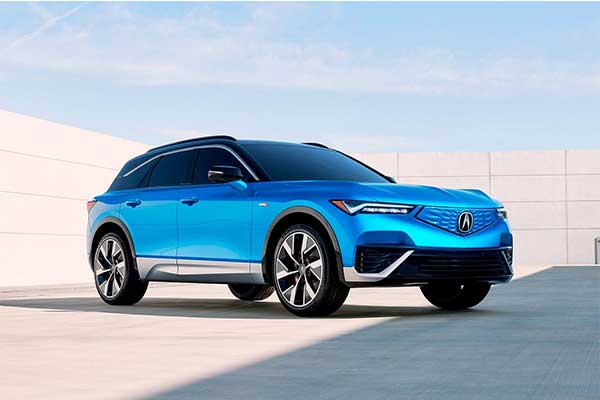 After being teased, it's officially here, Acura's first electric vehicle, the ZDX has been unveiled at the 2023 Monterey Car Week in California and like most modern Acuras it is very recognizable. Deliveries are slated to start in early 2024 and Acura said to expect a starting price in the $60,000 bracket for a base A-Spec grade, rising to a figure in the $70,000 bracket for a sporty Type S grade.
The Acura ZDX is the first production car to take styling impetus from the Precision EV, and the Type S variant features the concept's Double Apex Blue Pearl paint finish, although the Tiger Eye Pearl hue offered on other Type S models is also available. The regular ZDX gets 20-inch wheels wrapped in all-season rubber, while the Type S features 22-inch machine-finished wheels. Summer rubber is optionally available on gloss black wheels. While we're here, the Type S also gets Brembo front brakes with 15.6-inch rotors, and the six-piston calipers are painted a vibrant yellow hue. Another subtle change is that the ZDX A-Spec gets coil suspension while the Type S upgrades to air – just like the MDX Type S.
In terms of sizing, the ZDX is 197.7 inches long and 77.0 inches wide, which makes it just a touch smaller than the gas-powered MDX (198.4 inches long / 78.7 inches wide). But its battery platform gives it a significantly longer wheelbase; 121.8 inches here compared to just 113.8 inches on the MDX. And that extra-long platform means additional space in the cabin – which promises to be a lovely place to sit.
ZDX owners will also be treated to a premium interior that marks the first use of a Bang & Olufsen sound system for an Acura. In addition, there's an 11-inch digital cockpit and an 11.3-inch infotainment touchscreen display that has wireless Apple CarPlay and Android Auto (a pleasant surprise since GM said it would be dropping the third-party systems).
As standard, the infotainment system will be powered by Google built-in, another first for Acura. The system incorporates apps like Google Assistant, Google Maps, and Google Play, and offers seamless on-the-go connectivity, the brand says.
The two vehicles' specifications are also a match. The ZDX A-Spec features a single motor at the rear as standard but can be upgraded with dual-motor all-wheel drive. In both cases, the peak output is 340 hp. The range estimate for the rear-wheel-drive setup is 325 miles, while the dual-motor setup gets a 315-mile estimate. Type S will also be available at launch. This grade will come standard with dual-motor all-wheel drive and an output of 500 hp. The range estimate for the Type S is 288 miles.