Ford Goes Insane With An 800Hp Limited Edition Mustang GTD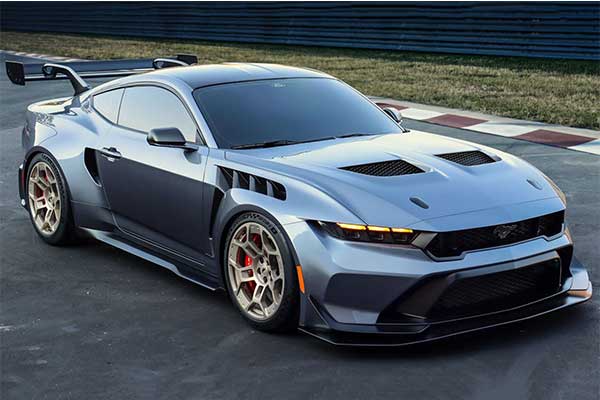 The Ford Mustang is in demand worldwide as perhaps the ultimate American sportsman, but there is probably no one who will pass up a Porsche or Maserati. So far, says Ford, because this Mustang GTD has been developed from the start to be able to respond to European sports cars in particular.
Needless to say: the 'GTD' in the type designation of this Mustang has nothing to do with diesel. The Ford Mustang GTD is in fact the street version of the Ford Mustang GT3 race car presented earlier this year, which will compete in the 24 hours of Le Mans next year, among other things. A car with a solid European background, although there is also a lot of very American about this über-Mustang. The engine, for example, is a supercharged 5.2-liter V8 with roughly 800 horsepower. It is still in the nose, but due to an 8-speed dual-clutch transmission mounted on the rear axle, the manufacturer says it has achieved a fairly ideal weight distribution.
That is important, because, despite the high power, the Ford Mustang GTD is not a Dodge Challenger Hellcat-like dragstrip monster. The Mustang is all about cornering, so lap times are on a real track. Ford also has a clear goal in this area with this car: a lap of the Nürburgring Nordschleife in less than 7 minutes. For comparison: in 2013, the Porsche 918 Spyder was the first road car to break through that barrier and even today you have to arrive with Porsche 911 GT3-like cars to stay below this limit.
It should therefore come as no surprise that absolutely everything has been addressed for this super-Mustang. The chassis was completely overhauled and contains springs and dampers that are not only adjustable in hardness but also in height. For example, in 'track mode' it is almost 40 mm closer to the asphalt than normal. and behind the 20-inch wheels are gigantic brake discs. The tires are also impressive: they are already 325 mm wide at the front, even 345 at the rear!
We have not yet seen the interior of the Ford Mustang GTD and judging by the dark tint foil on the show car, it is not yet fully presentable. However, Ford promises beautiful materials and therefore a luxurious appearance, although weight savings have been the main focus. The back seat must therefore clear the field. The Ford Mustang GTD will always be special. This is primarily due to its price because even for the US the brand already speaks of $ 300,000.