Alfa Romeo 33 Stradale (Limited Model) Unveiled And It's All Sold Out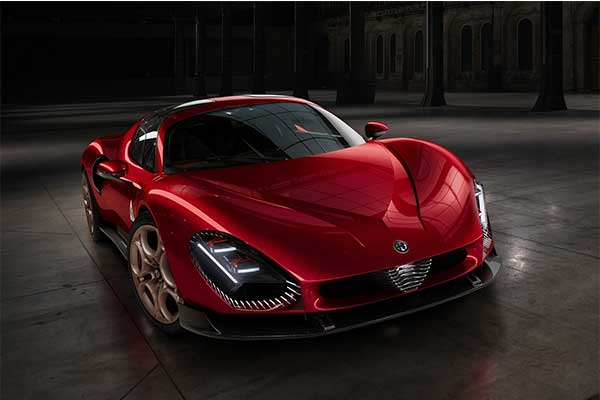 For the first time since the 8C Competizione, Alfa Romeo is moving into supercar land again. This is the Alfa Romeo 33 Stradale, a modern reincarnation of the 1960s Alfa Romeo of the same name, with technology that is familiar.
Highlights
Modern reincarnation of 33 Stradale from 1967
Both with V6 and electric
Technique known from Maserati
In terms of appearance, the similarities are not to be missed. It not only resembles the Alfa Romeo 33 Stradale of yesteryear but also certainly resembles the race car that preceded it, the Tipo 33 and in particular the 33/2. Especially the headlights placed somewhat lower in the nose are more reminiscent of the Tipo 33/2 than of the 33 Stradale. Also at the rear, the brand new Alfa Romeo 33 Stradale is clearly a nod to both its namesake example and the Tipo 33. The black accents on the sides, just before the taillights, as well as the gull-wing doors through which you can look up, the old 33 Stradale had also.
In the interior, it is also a tasteful mix between modern and classic, with the center tunnel as a major eye-catcher. You will find several large switches on it, including for choosing the driving mode (Strada or Pista), and adjusting the suspension, but also for opening or closing the windows and doors. In the middle is a lever to choose the direction of travel and also one with which you can choose whether you shift yourself (with the flippers behind the steering wheel) or whether the car does it for you.
Power comes from a 3.0-liter biturbo V6 in the middle, which sends more than 620 hp to the rear wheels via an eight-speed DCT. That power is distributed over the wheels via an electronically regulated differential lock. All in all, it is enough to shoot the Alfa Romeo 33 Stradale from 0 to 100 km/h in less than three seconds and it reaches a top speed of – appropriately – 333 km/h. The electric version is a lot stronger, namely 'more than 750 hp'. Alfa Romeo does not yet release performance figures, although it says it expects its driving range to be around 450 km according to the WLTP cycle.
There is no information on pricing, but since all 33 are spoken for, it doesn't matter anyway. However, there may be other opportunities in the future.