Alpina Launches B4 Gran Coupe Which Is The Unofficial M4 Gran Coupe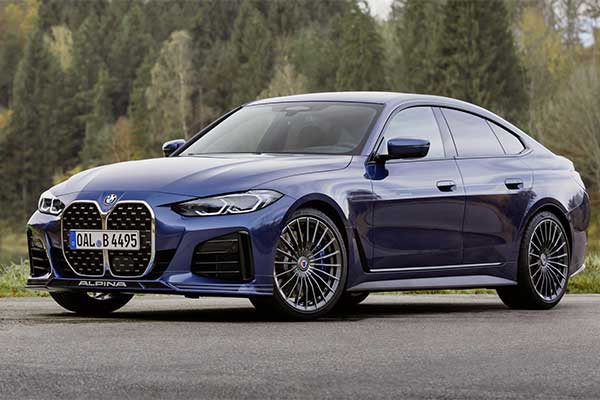 Alpina has pulled the curtain on its B4 Gran Coupe. You can safely see it as a BMW M440i Gran Coupe with a touch of extra luxury… and power (495 hp) to be exact. Did someone there say "M4 Gran Coupe"?
Although Alpina has been creating cars under its own name for decades, the German brand from Buchloe is now part of BMW. This brings a rather complicated period in the history of the brand to an end. For example, Alpina was officially not a tuner, but it invariably took BMW production models as a basis. In addition, it did not build all of its own models anymore, because certain copies simply rolled off the production line at BMW. Henceforth, Alpina is BMW, just like the M-Division is. And this B4 Gran Coupe can therefore be seen as the first Alpina under the BMW flag.
The B4 is based on BMW's regular 4-Series Gran Coupe, but given Alpina's trademark subtle, yet muscular makeover with a deep front spoiler, rear lip spoiler and a set of 20-spoke, 20-in forged alloy wheels. The weight of each wheel has been cut to a relatively light 26.5 lbs (12 kg) to help reduce unsprung and rotational mass.
You are probably more interested in what's happening under the hood, though. There's a 3.0-litre straight-six engine that delivers a peak output of 495 hp, positioning the B4 Gran Coupe in terms of power nicely between the regular BMW M3/M4 and the more powerful Competition versions. An 8-speed automatic gearbox channels the power to the wheels. The 0 to 62 miles per hour sprint takes just 3.7 seconds and the top speed is 187 mph.