Toyota Blows Hot With Latest 2023 GR Corolla, A Ferocious 300 Hp Hatchback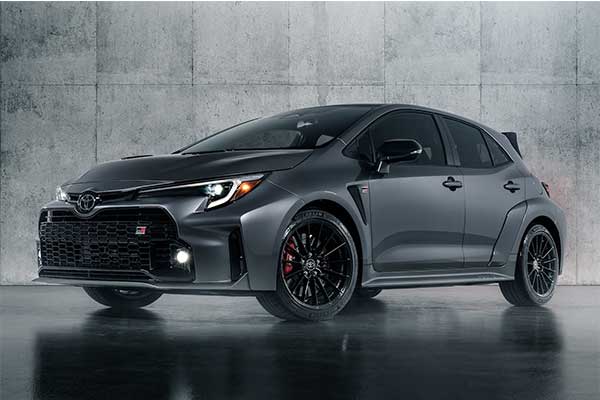 No more teasers, rumours or leaks, the 2023 Toyota GR Corolla hot hatch is here, and it's exactly what we hoped for: a bigger four-door GR Yaris and it looks ready to go fast and do donuts.
The GR Corolla inherits the GR Yaris' 1.6-litre three-cylinder turbocharged engine. Instead of 257 horsepower and 266 lb-ft of torque, it now produces 300 hp and 273 lb-ft, all handled by a six-speed manual gearbox with rev-matching functionality. That power increase is, according to Toyota, largely down to a totally new triple exhaust with outboard and central tailpipe exits, in addition to a part-machined intake port, multi-oil jet piston cooling, large-diameter exhaust valves, and a single-scroll ball-bearing turbo.
The performance features don't end there as the GR Corolla has an aluminium hood and aluminium front door panels. They help to minimize the weight gain as the model tips the scales at 3,249 lbs (1,474 kg), which is 189 lbs (85.7 kg) more than the standard Corolla Hatchback. The hot hatch's suspension consists of MacPherson-type struts for the front and a double-wishbone design at the back. The meaner Corolla rides on 18-inch, 15-spoke wheels with a gloss-black finish that have Michelin Pilot Sport 4 tires in size 235/40R18.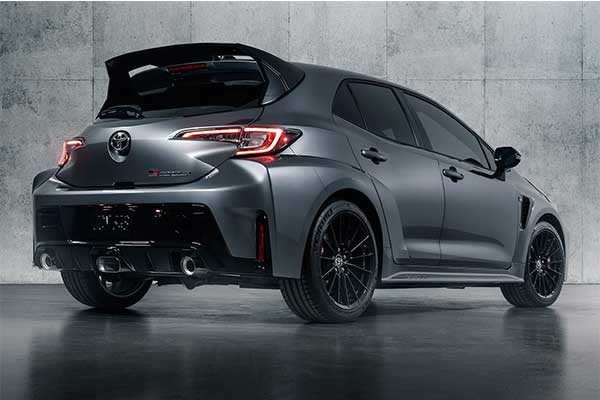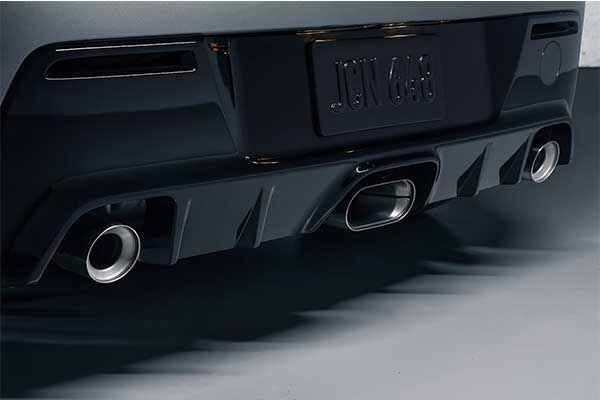 Compared to the standard Corolla hatchback, the GR Corolla offers meaner styling to match its added power. Bulging fenders make it 2.4 inches wider and a widened, blacked-out grille is flanked by functional air ducts on either side. Down the sides, prominent sills are tagged with a "GR-Four" logo as a nod to its AWD system. Core models come with a subtle gloss black lip spoiler (the prototype's is body-coloured but Toyota says it will be black on the production vehicle), but the Circuit Edition is far less subtle with a large protruding rear spoiler finished in matte black.
Inside is no different from the regular Corolla as it comes with a 12.3-inch digital infotainment display. The screen includes views of the selected all-wheel-drive mode, turbo pressure, gear position indicator, and tachometer. The driver operates a short-throw shifter that Toyota says has a position "where the driver's arm is naturally lowered from steering." There's also an 8.0-inch infotainment screen in the centre of the dashboard.
Toyota declined to provide a 0-60 mph time or a top speed, saying those figures will be released closer to the car's on-sale date. For reference, the GR Yaris offers a 0-60 mph time of less than 5.5 seconds and a 142 mph top speed.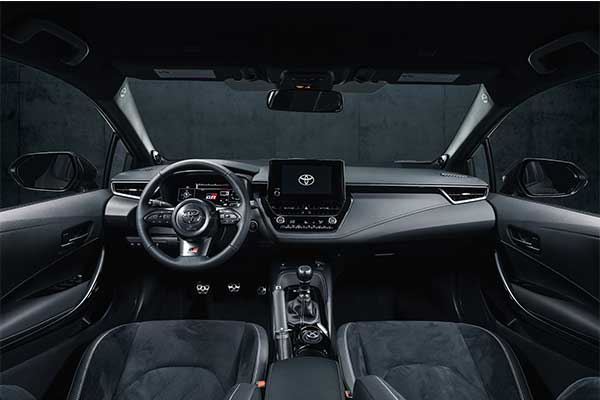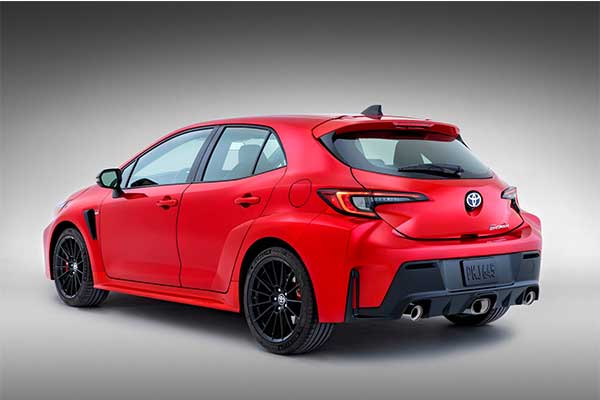 Also See:

Toyota GR Corolla Hot Hatch Set To Make Its Debut On March 31.