American Student Shows Off The Car He Bought After Months Of Saving (PHOTO)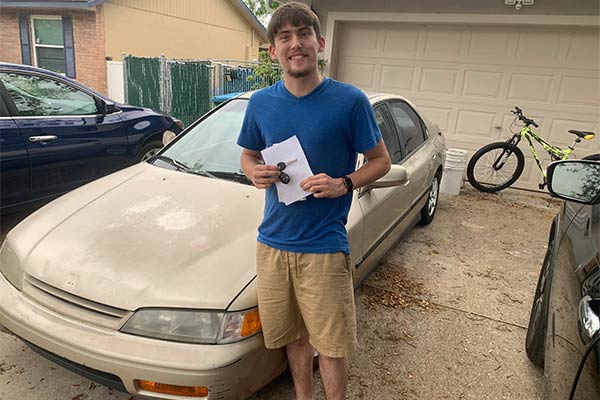 Young American student shows off his car he bought after months of saving.
He said it's not the most fancy ride in the world, but it's something that will him from point A to B.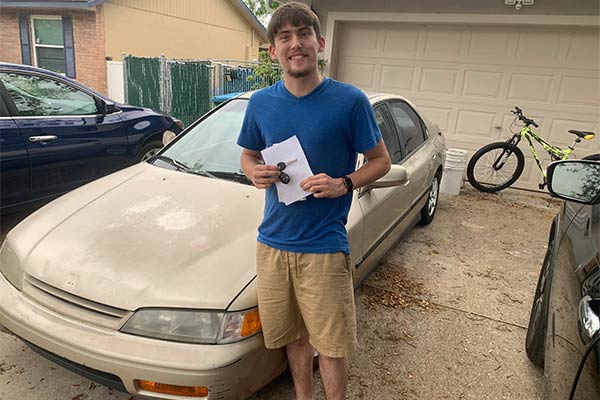 A young American student, Ronald Jungk, has taken to his twitter page to praise himself for acquiring a car. He said he was able to purchase the ride after several months of saving.
The young American student in a Twitter post he made on Thursday, March 25 said he was nothing short of proud of himself despite the car not being the most fancy.
Ronald stated that the important thing for him was that the car is able to aid his movement from one place to the other.
He wrote:
"So I bought my first car today all by myself after months of saving and I am nothing but proud of myself. It's not the most fancy thing in the world but it's something that gets me to point A to B and that's all that matters."
Meanwhile, his Twitter post got mixed reactions with many hailing him for outrightly buying a car instead of getting an exotic one and paying debts.
One user offered to pay for his first gas purchase. @AMGcedes wrote:
"Dm me your cashapp and I'll pay for your first tank of gas! I also have slightly used breaks on a old honda i used to have that u can keep when yours go bad! Keep up the hard work."
@LGovment said: "Congrats! "My first car was in pretty rough condition when I bought it. I did the bodywork on it, prepped it for paint, and had it painted by an autobody student."
@Marcopelli commented: "Honda Accords literally last forever, parts are easy to find, and they are endlessly customizable. I think you made a very smart purchase."