Antonio Sandouk Crowned BETKING "King Of Drift" At Lagos Autofest (Photos)
The 2020 edition Lagos Autofest; an event of the BMW Club Nigeria and Work and Play Motorsport group was concluded over the weekend. Stingray Pointman aka Antonio Sandouk was crowned the King of drift on an event held at Tafawa Balewa Square Lagos.
Davido, Ladipoe, Alex Ekubo, Ik Ogbonna, Bammy Bestowed, Teddy A, Madarocka, Makopolo, DJ Tee, DJ Jennyswitch, DJ Kraizee witness the BetKing "King of Drift" at this years Lagos Autofest 2020
Sandouk who was returning to active racing after some break said the win was an exciting one. In a statement, he said "I am very happy to have won. We have great drifters here today, and I foresee a stiffer challenge in every category of the sports in the future. There are very young talented racers coming on board these days, and that is a sign of growth."
The MD of BETKING presented the Winners their 1M prizes and Antonio Sandouk was Crowned BETKING "King of Drift".
Argo Raak, multiple race champion, in the past, was the second-best drifter at the event. He beat Captain Awwal to the third spot. Sandouk pocketed 500,000 naira, while Raak got 200, 000 naira for their performance.
Diekola Alabi won the time attack to pocket 200, 000 naira while Femi Dada came second winning 100, 000 naira. In addition, notable Drift hunters From Abuja known as the" Princes of Drift " Captain Anwal and Jaybash were present at the event revving and stunting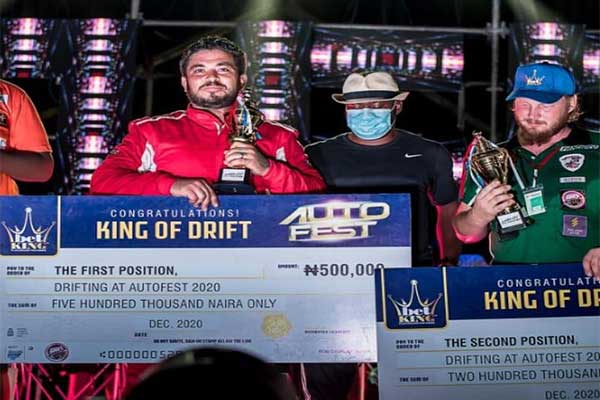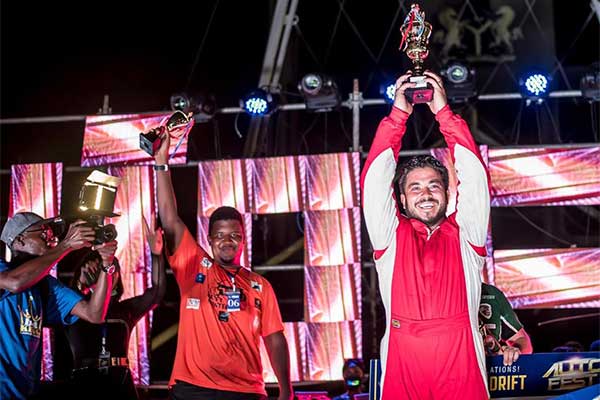 This year's edition was also supported by BetKing, Fearless Energy Drink, Ace of Spades, Grandcru, Beat 99.9 FM, Coscharis Motors, JD Autos, SMT Volvo, Toyota, Autochek, Heineken, Motul, AMC, hiimpacttv, Infinity Tires and Elizade
Adeoye Ojuoko, the President of Work and Play, one of the organizing team said that the event redefined possibilities in the Motorsports community as it was borne on the back collaboration between his group and BMW Club Nigeria.
In a remark, he further added. "If we put our resources together we can go farther. This event is bigger and perhaps the best so far. For us in Work and Play, we would explore more avenues to promote the sport". "If it were not for the cautious nature of the social event and the move by organisers of this event to align with Lagos State government and the Nigeria Centre for Disease Control's Covid-19 Protocols, this venue would have been sold out." He said.
The one-day event that also included time-attack with outstanding parades from other Motorsports groups from different parts of the country. Kennedy Njideoffor, President of the BMW Nigeria said, it was the club's dream to use the event to raise awareness. This was was an avenue to bring together car enthusiasts for common good.
The Flag Girls Contest crowned 3 winners and the CSR to the homeless saw 3000 persons given merry Christmas tokens from the Bikers in Lagos, BMWCLUBNG and Ritefoods
The Event featured, horses, dancers, bicycle stunts, skaters, drifters, bikers and display of a varied array of exotic automobiles. The cars on display ranged from Mercedes, Lexus, Tiger, Toyota, Audis BMWs, etc
Next Year's edition promises to be even more exhilarating.