Aston Martin's Q Bespoke Division Launches The DBR22 Speedster Concept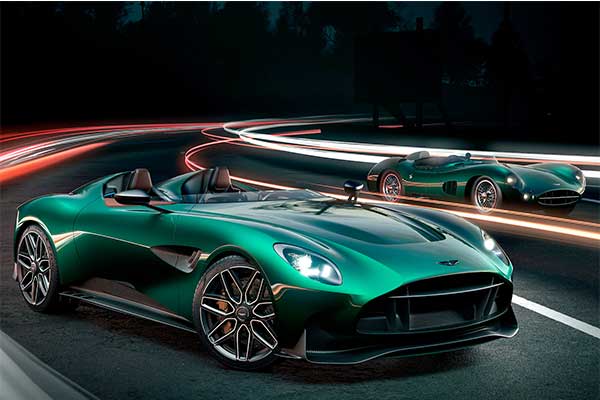 Aston Martin on Monday revealed the DBR22, a sultry speedster set to make its formal debut on Aug. 19 at 2022 Monterey Car Week. The DBR22 is officially a concept car, though such a stunning design is too good to waste and Aston Martin has hinted strongly a small production run will happen. The number of cars built is likely dependent on how much interest the Monterey showing garners.
The automaker says that the DBR22 Concept was inspired by its racing heritage. Specifically, the design pays tribute to the 1952 DB3S and the DBR1, which won Le Mans in 1959 with Carroll Shelby and Roy Salvadori behind the wheel. Aston has called the DBR22 "a perfect celebration" of the division's potential, in that it blends traditional coachbuilding practices with "cutting-edge" manufacturing technology in a package that is at once one of Aston's most powerful cars and one of its rarest.
On the inside, there's a unique dashboard housing two digital displays; a pair of carbon fibre, race-style bucket seats, each available in a vast array of materials and colours; and a liberal deployment of exposed carbon fibre throughout.
Powering the concept is the twin-turbocharged 5.2-litre V12 engine with a unique engine calibration. The engine, which pairs with an eight-speed automatic transmission with paddle shifters, produces 705 horsepower (518 kilowatts) and 555 pound-feet (753 Newton-meters) of torque. Aston says the two-seater can hit 60 miles per hour (100 kilometres per hour) in 3.4 seconds. It's capable of reaching 198 mph (319 kph).
"DBR22 showcases Aston Martin's unique capabilities, with the world-class design combined with an agile, intelligent approach to engineering and production," said Roberto Fedeli, Aston Martin's chief technical officer. "For a car that was designed to celebrate the ultimate bespoke customization service, the engineering developments mean DBR22 truly has the dynamic theatre to match, ensuring the drive is just as addictive as its looks."