Dodge In Collaboration With A Coachbuilder Finally Sells Challenger Convertible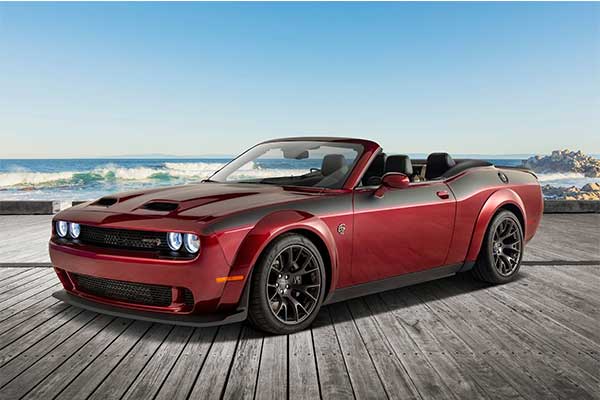 It is now common knowledge that the Dodge Challenger will transform into an EV in the future with different limited edition models being released up and down. Another model was released yesterday in the form of a convertible version of the iconic muscle car.
However, this isn't your typical convertible as the company has teamed up with Drop Top Customs to streamline the ordering and conversion process. Starting tomorrow, August 16th, customers can walk into their local Dodge dealer and place an order for a Challenger Convertible. Customers will then work with Drop Top Customs and their local dealership to create their ideal vehicle. The process takes place before the customer takes delivery, but it's not cheap. The convertible conversion costs $25,999, not including the cost of the car.
The conversion includes a fully hydraulic power soft top, structural reinforcements to reduce body flex, and a heated glass rear window. Based on the photos, the trunk and cabin area appear mostly unencumbered. "While we hit the throttle towards our new performance path, Dodge is also having fun on this victory lap by celebrating decades of muscle car power," said Tim Kuniskis, Dodge Brand Chief Executive Officer. "What better way to commemorate how far we've come than to make it easier for Dodge Challenger customers to create a throwback convertible look."
The cars will carry the Stellantis warranty of 3 years, 36,000 miles on the unmodified parts and 5 years, 60,000 miles on the powertrain. Drop Top Customs will warranty its components for 3 years, 36,000 miles.
Finally, Challengers and Chargers are getting a few special visual treatments for 2023. All models are part of the "Last Call" as Dodge puts it, and they will have plaques under the hood displaying the model name and the phrases "Designed in Auburn Hills" and "Assembled in Brampton.