Behold The Radical And Tech Advanced 2022 Hyundai Tucson (Photos)
Despite all the negatives that come with the year 2020, Hyundai has been on top of their game and with the new Tucson SUV launched the company has taken its rivals by surprise. The 2022 Hyundai Tucson is the most technologically advanced Tucson model yet and it looks the part. Now let's delve deep to the changes and improvements the new Tucson has to offer.
Start from the front, the 2022 Tucson receives the brand's latest Sensuous Sportiness design language which its siblings have already. With that in mind, the Tucson features a brand new front grille with Parametric Hidden Lights that means when the SUV is switched off. the front of the Hyundai appears to be covered exclusively in dark geometric patterns with no obvious LED daytime running lights.
The entire SUV has an edgy design with sharp, chiselled surfaces and angular wheel arches. There's a new radical new rear-end that includes split taillights and hidden rear wipers that sit under the spoiler. In addition, a smooth glass Hyundai badge, an aggressive diffuser and bumper package comes fitted.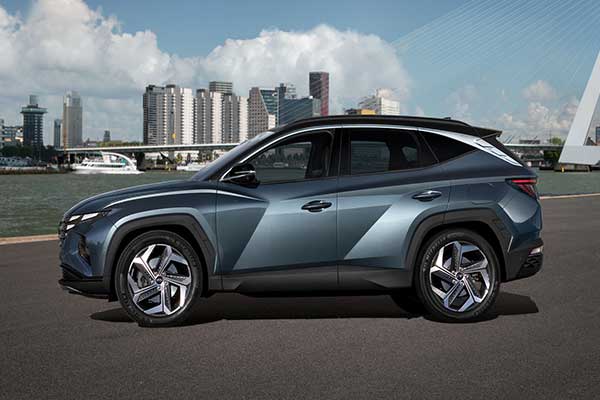 On the interior, it looks like the stuff of dreams. Hyundai took a futuristic approach in the entire layout and it looks amazing. There's a large 10.25-inch touchscreen infotainment system (optional) as well as a digital gauge cluster. Hyundai has also removed traditional knobs and buttons for the air conditioning and heat systems. An 8.0-inch display is standard and has Apple CarPlay and Android Auto compatibility. The Tucson can be equipped with a climate control system that monitors air quality and purifies the air if necessary. It can also indicate pollution levels and reduces moisture from the evaporator and keeps the air conditioning system clean and odour-free.
Under the hood is a 2.5-litre four-cylinder rated at 190hp and 182 lb-ft of torque. It is paired to an 8-speed automatic transmission. Also available is a hybrid turbocharged 1.6-litre inline-4 connected to an electric powertrain for a combined output of 230hp and 258 lb-ft. Front and all-wheel-drive are available boasting new driving modes: Mud, Sand, and Snow. Other technical features are unknown yet but the SmartSense safety suite is standard.