BMW's 2022 i4 Electric Sedan Can Travel Nearly 500Km On A Single Charge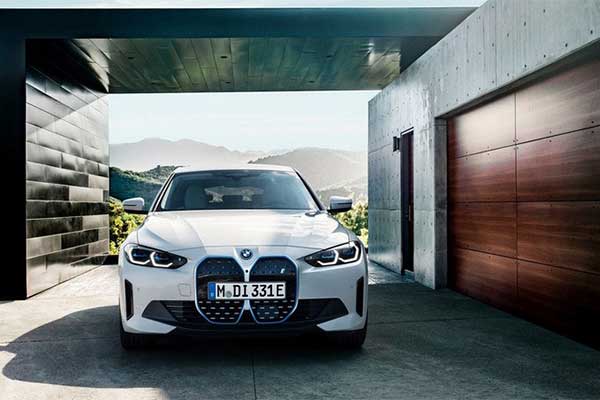 The Bavarian manufacturer is launching the new electric BMW i4 with two versions of the model, namely the rear-wheel-drive eDrive40 and the all-wheel-drive M50. Equipped with standard 18-inch wheels, the base version covers up to 484 km on a single charge, while with 19-inch wheels the electric car covers 454 km on a single charge.
For comparison: a Tesla Model 3 Standard Range with rear-wheel drive travels 438 kilometres, and a twin-engine Long Range – 576 kilometres. In terms of competitors, the Model 3 costs $ 44,990 and $ 50,990, while the i4 eDrive40 starts at $ 55,400 excluding taxes.
The M50 has a range of 435 kilometres and is priced at $ 65,900 excluding shipping charges, additional services, and the $ 7,500 federal tax credit for electric vehicles.
With 12.5 centimetres of ground clearance and 285.5 centimetres of wheelbase, the i4 reaches a mass of 2123 and 2276 kg. In other words, the X5 sDrive40i sits right in between at 2,189 kg.
In terms of performance, the i4 is also not inferior. The EDrive40 and M50 officially produce 335 and 536 horsepower, as well as 430 and 795 Nm, which means 5.5 and 3.7 seconds to a hundred. In comparison, the $ 58,990 Model 3 Performance does that in 3.1 seconds.
Both i4 variants come with an 83.9 kWh battery with a usable capacity of 81.5 kWh. And yes, both can be charged at 200 kW from a DC station, while single-phase charging is rated at 11 kW.