Would You Buy This 1914 Peugeot L45 2-Seater Racecar For N2.7 Billion? (Photos)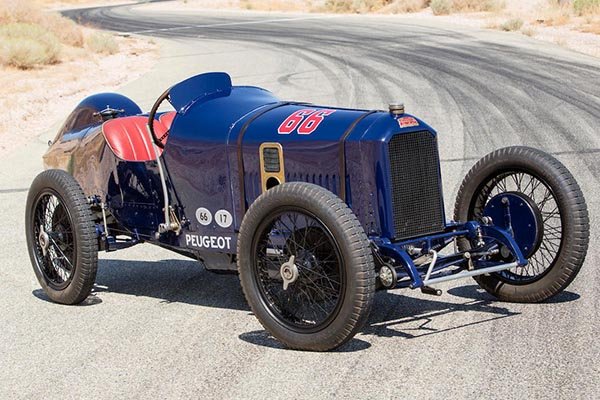 The Bonhams Auction that took place in Los Angeles recently saw off the 1914 Peugeot L45 Grand Prix Two-Seater for $7.26 million (N2.7 Billion). The automobile participated in the 1916 Indianapolis 500 Mile Race, and it finished in the third position ahead of other automobiles in the race with Ralph Mulford at the wheel.
This automobile, along with several others made by the French automaker, called the shot in motorsports all through the early 1900s. A similar car to the 1914 Peugeot L45 bore Jules Goux to victory at the Indianapolis endurance race in 1913.
The initial engine in the L45 Grand Prix Two-Seater race car was a 3.0-liter engine but was later replaced with a 4.5-liter 4-cylinder engine bearing four valves per cylinder and dual overhead camshafts, able to generate up to 112 hp at 2,800 rpm.
Furthermore, the ancient racecar features mechanical drum brakes at its four corners, as well as live front & rare axles and semi-elliptical leaf spring suspension.
Would you buy it for N2.7Billion? Tell us in the comment section.
Don't forget to like, rate and share. Also follow @AutoJoshNG on Facebook, Twitter and Instagram.
See Related Post Would You Buy This MANSION ON WHEELS With A Garage For £1million?