7 steps to buy your car from USA and ship to Nigeria without leaving your bedroom.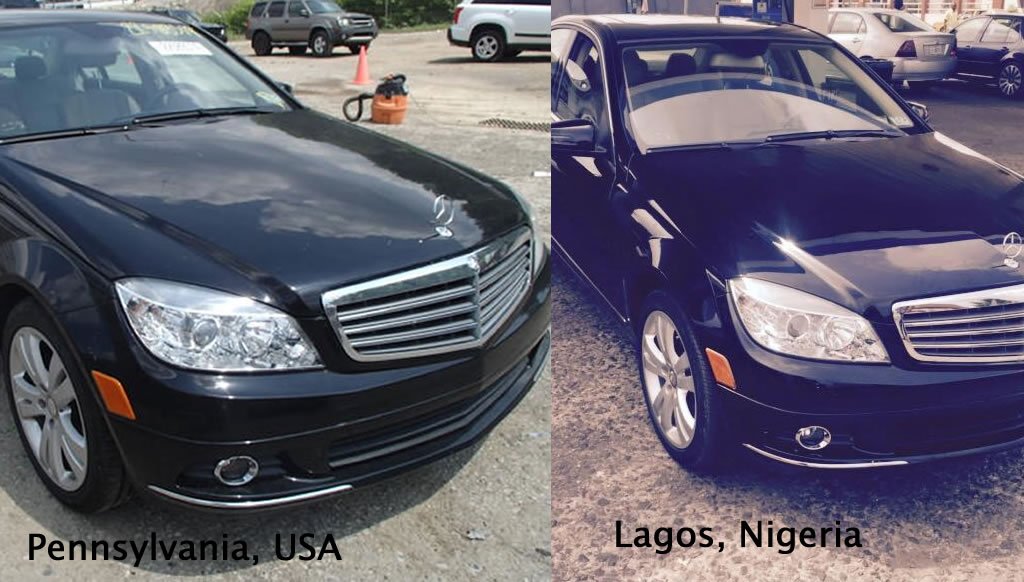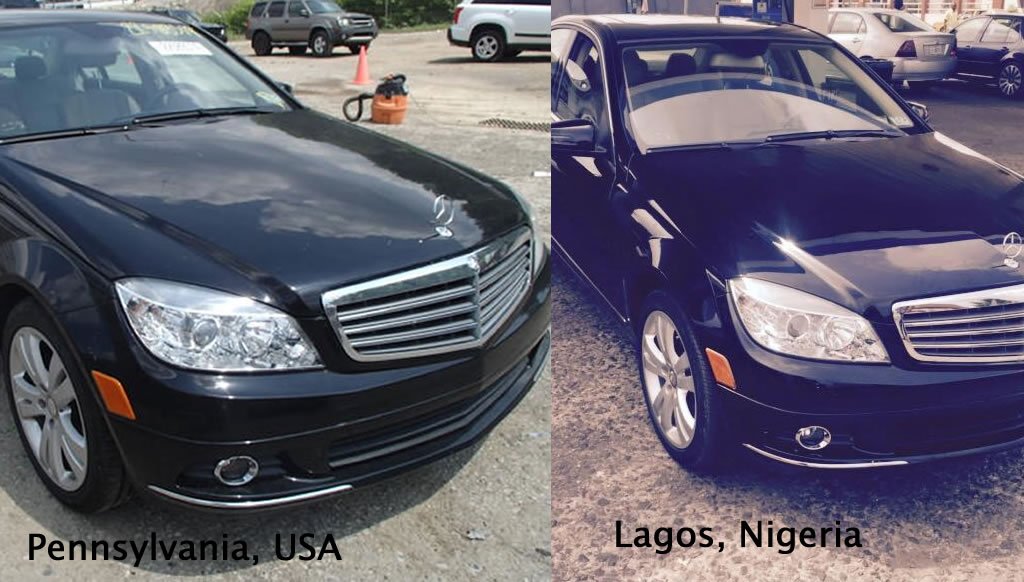 In this article, I will be taking you through the easy steps you can use to buy your car from USA and ship to Nigeria without leaving your bedroom. Virtually all car dealers in Nigeria follow these same steps to buy and import the cars they sell to you. I'll be excited to hear that you were able to import your car all by yourself after you read this post.
Steps to buy your car from USA and ship to Nigeria.
1. Register with a car auction website or search on a car listing website:
The first step is to decide if you want to buy from a car listing website like cars.com and autotrader.com or you want to buy from online car auctions like copart.com and iaai.com. If you are buying from cars.com or autotrader.com, all you need to do is search for the car of your choice. Don't buy from private sellers if you don't have someone you really trust who will go pay for and pick up the car on your behalf. It's better to buy from the dealerships especially those that are LLC (Limited Liability Company) with good reviews. If you are buying from the dealerships, you can call them to make enquiries and seal the deal; jump to point 5.
Online car auction is also a safe and reliable way to buy your car across the Atlantic especially when you do not have a well trusted ally over there. Don't make the mistake of sending your money to just any person or dealership. Most importantly, never send your money to family and friends that are not well trusted as they may use your money to pay rent. Some of these auction companies offer free registration while others charge $200 (N72,000) initial registration as well as annual subscription. A few of these online car auction sites are copart.com, auctionexport.com, iaai.com etc. You will also need to submit your identification card as well as other required documents in order to increase your bidding eligibility.
Read Also: Tech DIY Projects
2. Learn and understand the common terms used in car auction:
This is very important as the technical terms are tools you require to make purchase decisions. You need to know the meaning of salvage title, clean title, buy it now, pure sale, enhanced vehicle, engine start program, run and drive etc. You also need a basic idea of the location of the states in USA so your story won't be like that of a guy who bought a car in Oregon State thinking the car was in Orlando, Florida. He eventually paid additional $1,500 (N250,000) in shipping charges back in 2014. OYO is your case if you make such mistake today as you'll have to cough out N540,000.
Note that you cannot export a car that does not have a valid title. You should only proceed to bid if the car's title document is clean title, certificate of title or salvage title.
3. Search and select the car you want to buy:
This is the most tedious part of buying a car in Nigeria as you sometimes have to drive from Lagos to Ibadan in search of a car you may not like eventually. However, online auction gives you access to over 150,000 cars from your bedroom. Isn't that interesting?
At this point, you really need to shine your eyes. This is where most people make mistakes as they fall in love with a car that looks spotless in picture. Thereby ignoring the fact that the vehicle narration states that it has had a front end accident. You may not see the front damage in the picture because the car may have been partially repaired by the insurance company before putting it up for bid. Hence, you have to pay attention to every single detail and don't just look at a car on the surface.
Well, some car dealers in Nigeria don't pay attention to details because they prefer to buy the scrappy accidented cars which are cheaper and they come fix them here. Make sure you do a Vehicle History/VIN check before you proceed to buy a car you believe you need to know more about. You can also engage the service of independent inspectors who would do a thorough inspection of the vehicle on your behalf. This inspection service comes at a cost of about $90.
4. Buy your car:
Some cars are listed as buy it now which means you can buy them at the displayed price immediately you spot them. However, other cars can only be purchased at a predetermined bid date. So you have to wait for that date and time to join the bid room (See video of Nigerians in the bid room).
When I get to this stage, I always pray this our Naija internet does not mess me up. I dumped Swift Network for Smile and dumped Smile network for Spectranet. Now, I use FiberOne and MTN as they are the best for my current location.
5. Pay for your car:
Bank wire transfer and debit/credit card are the 2 main options you can use to make your payment. The card payment is faster and cheaper, however, you'll be restricted by maximum card limits and declined transactions on most Nigerian cards. Therefore, you are probably left with just the wire transfer. Buy dollar from the black market and send through your bank dollar account. Markets in Lagos is a great option to consider in that aspect tho.
Furthermore, you have to initiate the transfer of the money as soon as possible so the dealer does not sell the car to another buyer. You also need to ensure you pay into their company account. No delay is also tolerated if you buy from the auction companies because you will be charged a penalty of $50 to $100 if the auction companies don't get your money within 2-3 business days. Immediately they receive the money, they credit your car auction online account with the same amount. Hence, your payment for the car in processed and voila! the car is yours.
6. Ship your car from USA:
At this point, you or your shipping agent in USA will arrange a tow truck or flat bed to pick up the car and deliver at the closest US seaport. This cost may be as low as $100 and it may be as high as $2,500 if you buy your car in a state that is far away from the seaports on the east coast.
Note that your car must leave the auction company's compound/yard within 5 work days after the bid date. Else, you will start to pay $20 daily for storage charge.
Your shipping agent clears the car through US customs for export. Before, you know it, your car is already on the Atlantic heading to Nigeria. Most people prefer Ro-Ro (Roll on Roll off) shipping method to Container shipping. This is because the container shipping method is a little more expensive. You also have to pair with other people in order to share the container cost. The challenge with the pairing is some of the people you share the container with may delay in presenting their shipping documents or payment for import duty in Nigeria and this may make you incur demmurage at Lagos port.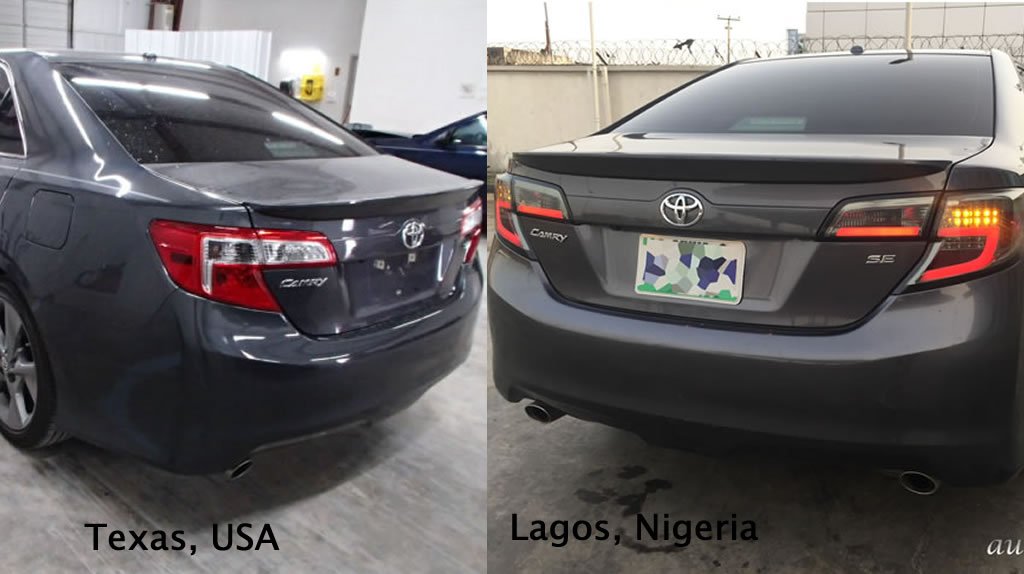 7. Clear your car with Nigeria Customs:
You can do this yourself if you have the time and energy to spare. Alternatively, employ the service of a reliable clearing agent who will clear your car within 2-3 days.
The surface duty is 35% of the estimated value of the car. In addition, you will pay surcharge, VAT, shipping and terminal charges as well as other miscellaneous charges. Note that owners of 2016 and 2017 cars with mileage less than 3,000 kilometres will pay surface duty of 70%.
Finally:
It takes an average of 6 weeks to get the car from the auction site to Lagos. I have done it before in 4 weeks but that was just a one-off.
Now. you can buy your car from USA and ship to Nigeria without leaving your house.
Tell if you brought in your car from USA and your experience.