Check Out This 825 Hp Mustang Speedster Built By Shelby American (Photos)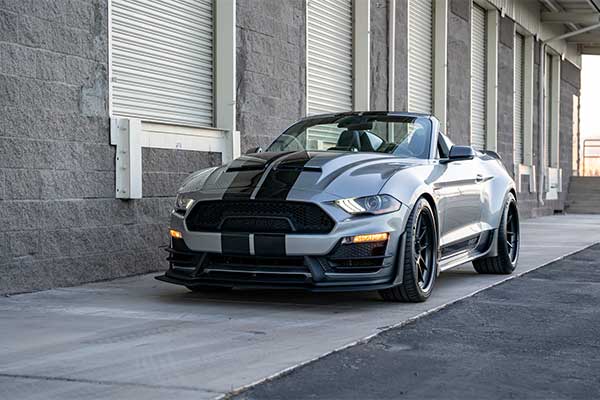 In commemoration of the 98th birthday of Caroll Shelby, Shelby American has built this limited-edition Mustang Speedster. Super Snake as it is called, the Mustang Speedster will be the most powerful Mustang as it comes with an 825 hp 5.0-litre V8 engine. Customers can opt for either a 6-speed manual transmission or an automatic. Both variants send power exclusively to the rear wheels.
The Shelby Super Snake in speedster guise is a strict two-seater. It features a custom tonneau cover over the rear, and as an option, a wide-body kit can be added to give the vehicle an even tougher stance. Other worthwhile options include a track-ready suspension package from Penske. It rides on bespoke Shelby springs and performance half shafts, as well as a rear stabilizer bar for crisper handling. Stopping power comes from a Brembo braking system, while the 20-inch wheels are wrapped in performance-spec tires. Optionally, you can go with a Penske-developed track-spec suspension system.
Only 98 units of the Mustang Shelby Super snake will be made and it will command a high fee. In a statement, Shelby American President said."The new Speedster is stunning". He further added. "From a styling perspective, there is simply nothing like it on the road".  The Mustang Shelby Super Snake is a true work of art and it also oozes class.