SAIC Showcases Gold Plated Roewe iMax 8 Minivan And It Is Blinding (Photos)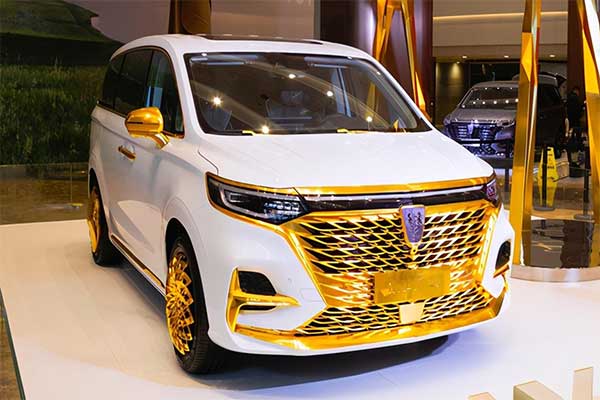 Gold plating is a very tricky job, if done right it becomes awesome, done poorly and its a mess but not this Roewe iMax 8 minivan by SAIC. This minivan stands out and all the gold on it really glitters. The only drawback is that this is a one-off model which means it belongs to a single person and will not be made again. This particular model was made for marketing purposes
In September 2020, at Auto China, SAIC Motor introduced the first minivan under the Roewe marque: the Roewe iMAX 8. The iMAX8 is offered both with a conventional engine (1.5-litre turbocharged four-cylinder with 180 hp, and a 2.0-litre turbocharged four-cylinder engine with 224 hp) and an all-electric drivetrain.  This one-off takes things to the next level and was created by local Chinese artist Wang Kaifang.
Adorning the exterior of the iMax 8 are a multitude of gold components. These including the front grille, front air intake shrouds, headlight surrounds and wing mirrors. In addition, the window trims, side skirts, rear fascia, and exterior badging are not left out. The MPV is also sitting on a set of gold wheels. No interior shots of the unique iMax 8 have been shared. Nobody knows if the gold accents continue into the cabin.
What do you guys think about the iMax 8 gold plated minivan? Tell us in the comment section.