Check Out This Ferrari GTO 250 Carved In Wood That Actually Drives (Photos)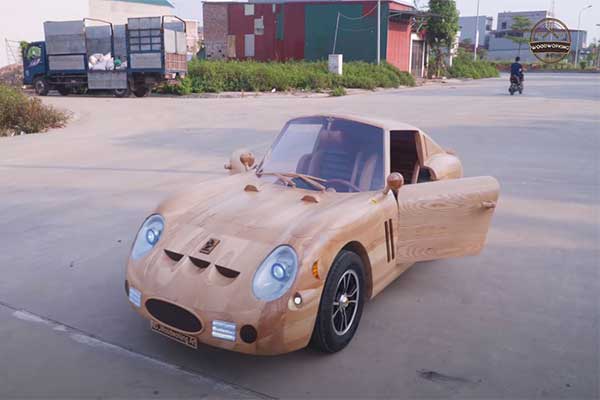 Owning a Ferrari is almost everyone's dream but acquiring one is totally different when it's the extremely expensive GTO, but why not create your very own Ferrari??? Ladies and gents, meet a wooden miniature Ferrari 250 GTO from Vietnam, and it looks absolutely fantastic.
This wooden wonder on wheels took more than 3 months to make (70 days) which involves building the frame, attaching the body, forming the curves (this isn't a cakewalk, by the way), and a whole lot more.
How this car came to be is a very touching story as a father was pushing his son in your run-of-the-mill kiddie car when the kid saw a Mercedes-Benz SUV and started crying because he wanted to get inside. We're to believe that the dad built the Ferrari 250 GTO replica just so he could trade it for the SUV. So the Ferrari was for his son, but not in the sense that he was supposed to own it for longer, but rather so it could be traded for a real car.
Amazingly, this vehicle actually drives as it uses electricity to power up, sorry no Colombo V12 engine involved here. The vehicle was seen driving on the road and if that's illegal we don't care but we all can do is to marvel at this creative masterpiece.