Chevrolet Goes Brute With 2024 Silverado HD ZR2 And A More Capable Bison Model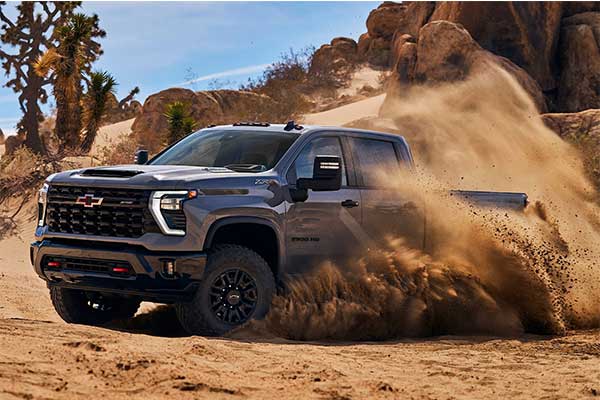 New for 2024, the Chevrolet Silverado HD ZR2 offers the off-road capacity that the nameplate is known for in a bigger and more powerful package. It was designed to tow and haul, and the range includes a Bison model that's capable of going even further off the beaten path.
Offered exclusively in a 2500 Crew Cab configuration, the trucks are designed to combine the "off-road performance our customers have come to expect from a ZR2" with the "towing and payload capabilities our HD customers demand." As part of this effort, the ZR2 has been equipped with an off-road focused suspension that features unique upper and lower control arms, new steering knuckles, and Multimatic DSSV dampers. The suspension has also been lifted by approximately 1.5 inches (38 mm) and this gives the trucks up to 11.8 inches (299 mm) of ground clearance.
While four-wheel drive and an Allison 10-speed automatic transmission are standard, buyers can choose between the base 401-hp gas-fed 6.6-liter V-8 or the optional Duramax diesel 6.6-liter V-8, which generates a substantial 470 horses and 975 pound-feet of torque. The gas engine supports 16,000 pounds of conventional towing and up to nearly 3400 pounds of payload. While the diesel has a higher tow rating (18,500 pounds), its payload capacity is capped at 3200 pounds.
Inside, the ZR2 features a mix of Jet Black and Graystone leather upholstery. There's a 12.3-inch instrument display and a 13.4-inch diagonal infotainment screen. Buyers can also specify a 15-inch head-up display that includes an incline gauge.