Sneak Peak At Tesla's Facelifted Model 3 Showing Its Roadster Inspired Styling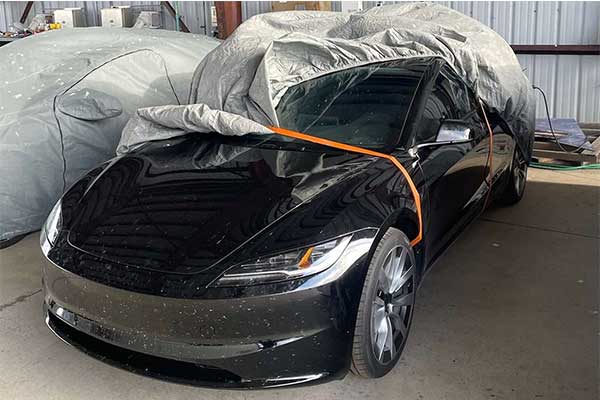 A photo of what looks like the Tesla Model 3 refresh – a.k.a. Project Highland – is doing the rounds online just a few months before the facelifted electric sedan is scheduled to enter production.
The single shot was taken in an unknown warehouse location and went viral on Reddit where users shared their thoughts about the new design. Many wondered if this is a legit scoop or an independent tuning project, but the extent of the modifications suggests the former.
An all-new fascia, seemingly inspired by the forthcoming Roadster sports car, lends the EV greater aesthetic appeal, and does away with the clunky, often criticized headlamps of the current model. The slimmer horizontal clusters bear a striking resemblance to the Roadster, and the redesigned front bumper looks far sleeker than before.
The alloy wheel design is also new and appears to fit the car's design. Peeking through the windshield in this photo reveals the upper part of the center display, which appears to be slightly angled towards the driver for better ergonomics.
Various reports suggest the Model 3 will benefit from a series of changes, including a refreshed interior design and new side mirrors – this isn't seen above, though. It's difficult to make out any dashboard changes from the image, but if this is a legitimate Tesla prototype, it's safe to assume the changes would be covered up with camouflage.