Creative Nigerian Undergraduate Builds Scaled Version Of Remote Controlled Tesla Cybertruck, Buggy (PHOTOS)
A creative Nigerian undergraduate builds scaled version of remote controlled Tesla Cybertruck and Buggy, Poses With its creations.
A Facebook user, Olagoke Ayomide Paul, has shown off a scaled version of remote controlled Tesla Cybertruck and a Buggy he built from scraps. According to him, he is so impressed with his creations that he was forced to take them for a photo shoot in a studio.
In a series of photos shared on his Facebook page, Paul can be seen admiring the Cybertruck and the Buggy.
He captioned the pictures with :
"Took them and myself to the photo studio for the first time lol ….sooo beautiful! Watcha y'all think? I love love the photos"
Ayomide is known for displaying several of his projects on Facebook. These includes battery-powered skate, Mongo truck as well as offroading 'drivable' Buggy – which is still under construction.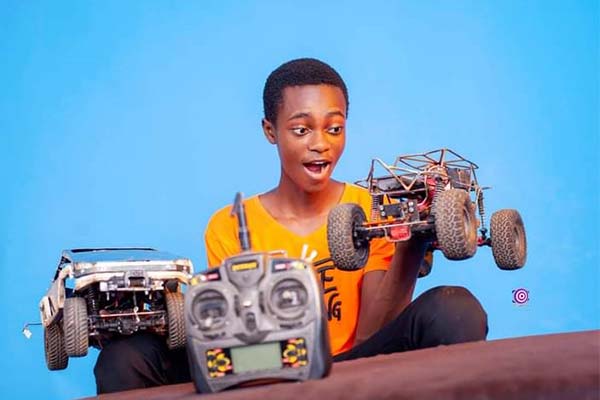 Below are how users reacted to his miniature Cybertruck and Buggy.
@ Silas Alarapon wrote: Very impressive!
@Bolaji Fatai asked Paul, "Can I have my detrum (gavin 6) back?
@Emenuga Magnus wrote "I love what i see…Nice one"
Paul according to his Facebook account, is still schooling at Obafemi Awolowo University, Ile-Ife. He's living in Osogbo. As a lifestyle, he's into inventing and patenting couple with 3D Modelling.