Celebrity Bar-man, Cubana Chief Priest, Poses With A Rolls-Royce Wraith In An Instagram Muse (PHOTOS)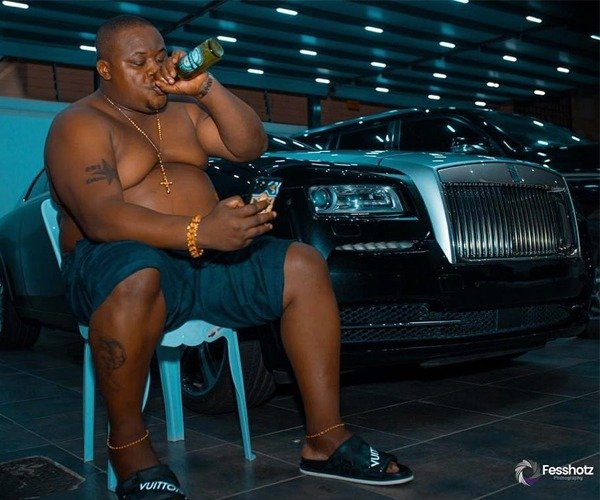 Celebrity Bar-man, Cubana Chief Priest, Show-Off Rolls-Royce In An Instagram Muse (PHOTOS)
Popular club owner and show promoter, Pascal Chibuike Okechukwu is famously known as Cubana Chief Priest.
The self-acclaimed celebrity barman supervises over a string of hospitality investments around the country.
The once-upon-a-time petty trader in Aba, Abia State, recently posted a photo of himself in a muse. In the social media muse, he meditated on issues relating to the forthcoming Big Brother Naija reality show.
Prominently featured in the Instagram photo, and stationed right by the famous owner of Cubana Night Clubs, is an imposing Rolls-Royce Wraith.
Rolls-Royce Wraith
The Rolls-Royce Wraith is a luxury grand tourer manufactured by Rolls-Royce Motor Cars.
At its heart lie hallmark Rolls-Royce attributes of luxury, refinement and hand-craftsmanship.
The Wraith is based on the chassis of the Rolls-Royce Ghost.
The name "Wraith" comes from an old Scottish word meaning the image of a ghost or spirit.  a name it shares with the 1938 model by the original Rolls Royce company.
The body style is a two-door pillar-less coupe with iconic suicide doors, where all side windows can roll down like in a convertible.
The Wraith is regarded as "the most powerful and dynamic Rolls-Royce in history". It features a turbocharged 6.6-litre V12 that sends 624bhp to the rear wheels. This is ten per cent more power than you will find even in the new Phantom and Cullinan.
The Wraith has a 590lb ft of torque available from 1,500rpm, enough to shift its 2.4 tonnes to 60mph in 4.4secs. Quicker than hot hatches with not dissimilar power-to-weight ratios, and quite startling to experience in something with lambs' wool floor mats.
Indeed, it may be the most sporting Rolls ever, however, it's still dripping luxury.