Drone View Of Ongoing 18.7-km, 6-lane Lekki-Epe Expressway Road Project (PHOTOS)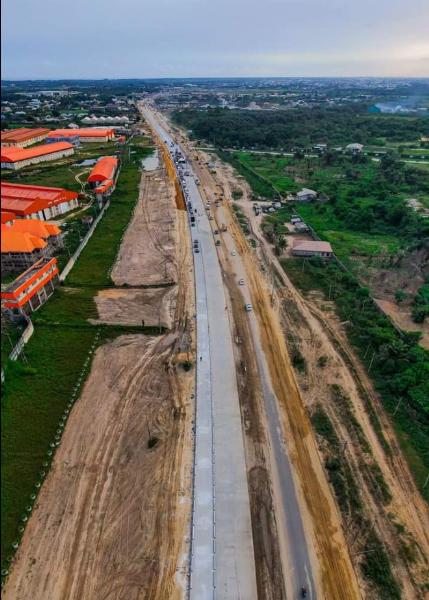 Here is a drone view (bird eye view) of the ongoing 18.7-km, 6-lane Eti-Osa-Lekki-Epe expressway road project (Eleko Junction To EPE T Junction).
Governor Sanwo-Olu says the 18.7-km, six-lane Lekki-Epe road will be completed and inaugurated in the Q1 2022.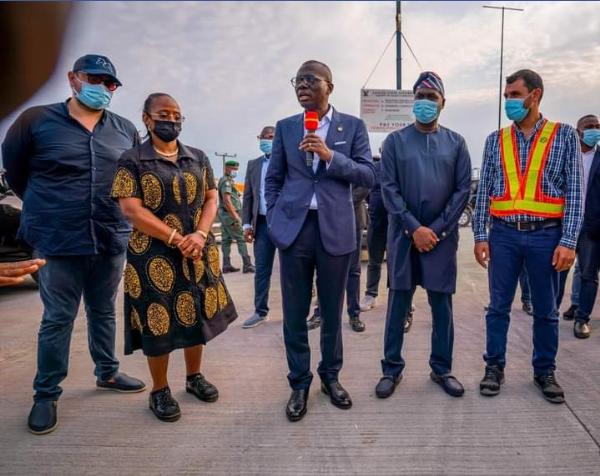 Last month, Governor of Lagos State Babajide Sanwo-Olu said that the 18.7-kilometre six-lane carriageway from Eleko Junction in Ibeju Lekki to Epe T-Junction will be inaugurated in the first quarter of 2022.
Sanwo-Olu said this when he and members of the State Executive Council went on an on-the-spot assessment of the project on Monday.
Sanwo-Olu, who was excited by the level of work done so far, said :
"The contractor has been active on site in the last six months. We are happy with the progress of the project, because the contractor works day and night. I believe the work is on track.
"We are happy with what we have seen and we believe that the contractor should be rounding off the work by end this year or first quarter next year."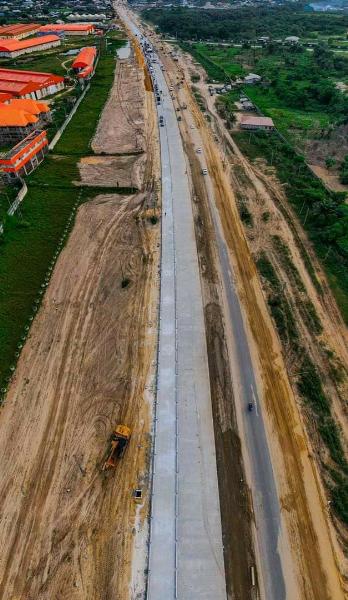 At the time of the Governor's inspection, the contractor, Craneburg, had completed a stretch of three kilometers on the lane from Eleko Junction inward Epe, while the right-of-way for the entire project has been fully cleared.
Lagos State Governor, Mr. Babajide Sanwo-Olu, had on November, 2020 flagged off the reconstruction of the Eti-Osa-Lekki-Epe expressway in
The first phase of the road project is a rigid pavement that will cover 18.75km, stretching from Eleko to T-Junction in Epe.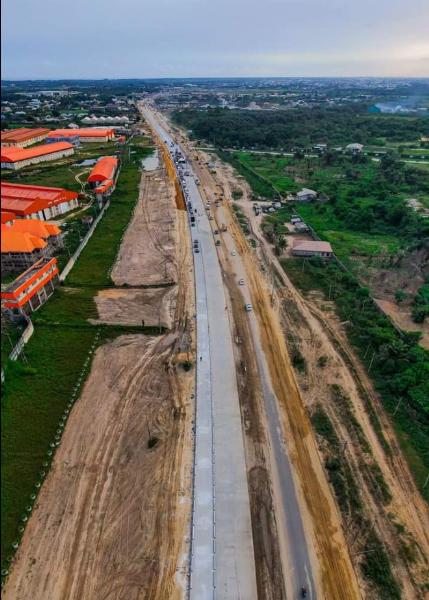 The second phase of the project is expected to start later this year. It will continue from from Eleko Junction to Abraham Adesanya Junction in Eti-Osa axis.
Here is are the details of the ongoing Eti-Osa-Lekki-Epe expressway massive road project (Eleko Junction to EPE T Junction)
– Flagged Off on Nov 1, 2020
– Contractor: Craneburg
– Type : Concrete road
– Distance: 18.75 Km (Phase 1)
– 6-lane dual Carriageway with dedicated truck lane
– 1.5km Pedestrian Walkway & Drainage on both sides
– Expected Completion time: First Quarter of Year 2022