Fancy A Convertible Model S? Ares Design Has You Covered (Photos)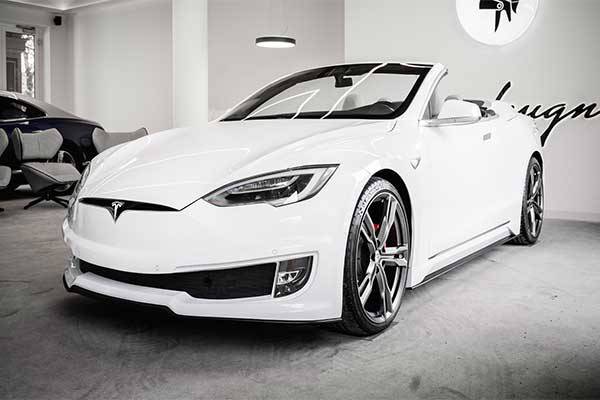 This is not a computer-generated image, its the real deal, a Tesla Model S 2-door convertible created By Ares Design. They are an Italian based company. This will the closest to any Tesla convertible except you want to get the older Roadster or wait for the new model whose release date is hanging. From all indication, this is the best customization of any Tesla out there and it looks good.
Based on the photos and the description provided by the coachbuilder, attention to detail is impressive. With the roof and B-pillars removed, additional chassis reinforcement was necessary. Ares buffed-up the side-member areas between the front seats and the rear passenger space. Overall, it looks remarkably OEM, as the Model S shape adapts to the roofless two-door treatment gracefully. The roof is now a soft fabric one that appears to take up most of the space the back seats used to. Furthermore, the interior wears full custom upholstery, complemented by the addition of an Ares Design carbon fibre aero kit. It also comes with revised front and rear fasciae, and a set of handsome five-spoke wheels.
To make sure the whole thing doesn't flop around, Ares' engineers reinforced the side members beneath the cockpit and rear seating area. It's not clear though from the pictures if there's any roll-over protection incorporated in the design. With the rear seats out, ARES had to add custom made ones. Naturally, its leather specialists made them out of "the finest hand-stitched ice white leather with orange detailing". Pricing of this customization is unknown and the particular Model S version is unknown so no one can determine its output.