For Not Getting A Particular Customized Number Plate, See What This Canadian Did (PHOTO)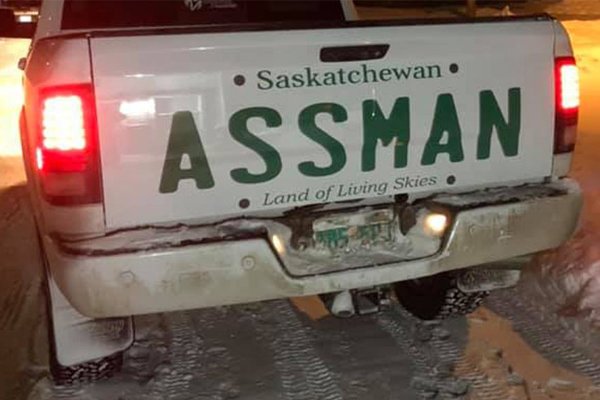 A Canadian recently became famous  for his resolve not to give up on what he wants.
The man applied to the Canadian authorities to get a customized number plate (vanity plate).
However, his request was turned down. This was because the word he applied to have on the number plate was considered unacceptable.
The word "Assman",  was considered by the authorities as profanity.
Actually, the word " Assman" is the man's surname. His full name  happens to be David Assman (pronounced "Oss-men").
So, undeterred, the David Assman decided to get even by getting creative.
Assman took things into his own hands and designed a huge 'Assman' decal that now sits on the tailgate of his pickup truck.
Also, to mimic the look of local license plates, David also got decals that read 'Saskatchewan' and 'Land of the Living Skies' as well as small stickers that look like the bolts found on real license plates.
In Saskatchewan province of Canada,  Government Insurance rejects vanity plates with even subtle hints at drugs, politics, religion, and sexuality. The insurance have a list of rejected vanity plates that is 85 pages long.
Not only has Assman's original Facebook post of the sticker been shared more than 5,000 times, it's also put big smiles on the faces of many people.