N108 Million 2017 Ford Hennessey VelociRaptor 6X6 (Photos)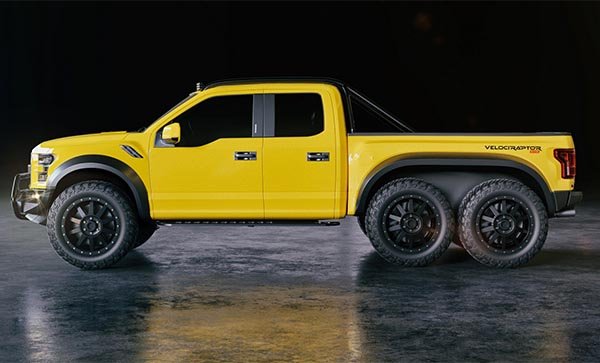 The 2017 Ford Hennessey VelociRaptor 6X6 starts at N108m ($295,000). It includes the base Raptor 4-door truck, 6X6 locking rear axles, upgraded Fox suspension, upgraded 20-inch wheels and off-road tyres, special front and rear bumpers, rollbar and LED lights. Hennessey Performance will also be offering its VelociRaptor 600 twin turbo upgrade for the 6X6 and for owners seeking more power and performance. The 600+ HP upgrade includes upgraded twin turbochargers, stainless steel exhaust modifications, upgraded front mounted air to air intercooler and plumbing and re-tuned factory computer. Other optional upgrades include: Brembo front & rear brake upgrade, larger wheels and tyres, LED lighting upgrades, bespoke interiors, electronic upgrades and armoring systems will also available.
"Our VelociRaptor 6X6 is pure aggression on wheels – all six of them", said Hennessey. "The new 2017 Raptor is going to be one of the best all-around trucks ever built. We are excited to help take it to the next level both in terms of performance and exclusivity".
See Related Post Top 5 cars spotted in Nigeria this week -Specs and prices