Happy Birthday To The Founder Of Innoson Motors, Innocent Chukwuma!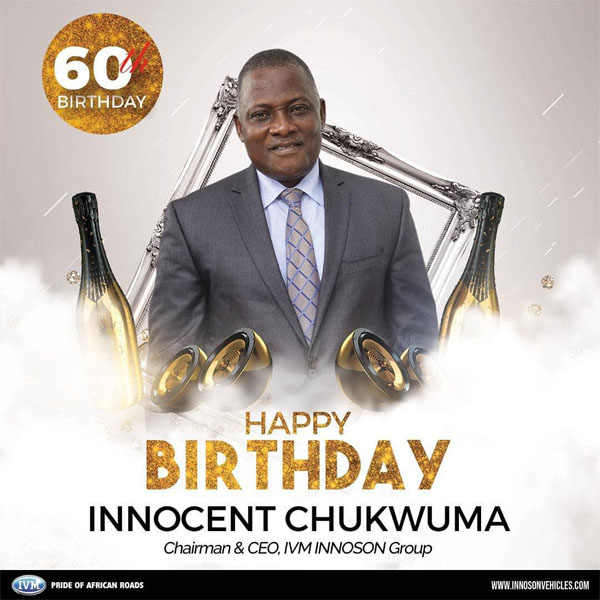 As Nigeria celebrates her 60th Independence Day today, a Nigeria icon also celebrates his birthday today. Innoson founder 
The person is no other one than the founder and Group Chairman of Innoson Vehicle Manufacturing (IVM), Chief Dr Innocent Ifediaso Chukwuma.
Chukwuma was born in Uru-Umdim, Nnewi in Anambra State. Interestingly, Nnewi is also the hub of automobile spare part dealership in Nigeria.
In 1981, after his education, Chukwuma was given a start-up capital of N3, 000 from his elder brother, Gabriel Chuwkuwa. The older Chuwkuma is the prominent billionaire business mogul and sport administrator, who is the chairman of Gabros Group of company including Gabros International Football Club (Now Ifeanyi Uba FC).
With the money, Innocent Chukwuma purchased his first goods and rented a shop.
He began trading in spare parts especially Honda motorcycle spare parts under the name Innoson Nigeria Limited.
Under his headship, the company moved from trading and importation to manufacturing of motorcycle parts. He also led the development and establishment of other companies such as Innoson Manufacturing, Innoson Tech. & Industries Co. Ltd as its subsidiaries.
From there, he commenced the assembling of automobile brands.
Innoson soon expanded to  producing and sourcing over 80% of his production materials locally, thereby creating employment at the local level.
Today, his auto-brand, Innoson Vehicle Manufacturing (IVM), stands out as an auto manufacturer of note who has localised the production of vehicles.
Today, one of the biggest patrons of the Innoson brand of vehicles is the Federal Government of Nigeria. Innoson vehicles are also being used in some West African countries like: Mali, Sierra Leone and Ghana.
Innocent Chukwuma, the Innoson founder, was born into the family of Chukwuma Mojekwu. He is the youngest child in a family of six.