See The 7 Founders Of The Biggest Automobile Companies In Japan
Japan is one of the countries that have made their mark in the automotive industry. Japan has been among the top three countries with most manufactured cars since the 1960s. Japan's well known global brands belong to the automotive industry.
Many people around the world are familiar with Toyota, Honda, Nissan, Mitsubishi, Subaru, Mazda, Lexus, and many more. They are all of the Japanese origin. With this status, we can say Japan is a world leader in automotive manufacturing and technology.
In this write-up, you'll see the founders of the 7 biggest automobile companies in Japan.
1. Toyota – Kiichiro Toyoda
Kiichoro Toyoda is the founder of Toyota, which is the leading automobile company in the world.
Kiichiro had plans of developing an automobile company while working as an assistant in his father's company – Toyoda Loom Works. After the death of his father, Kiichoro established an auto division within Toyoda Loom Works, which released a prototype vehicle two years later. The Toyota Motor Corporation was formed in 1938 as a spinoff of Toyota Loom Works.
2. Honda – Soichiro Honda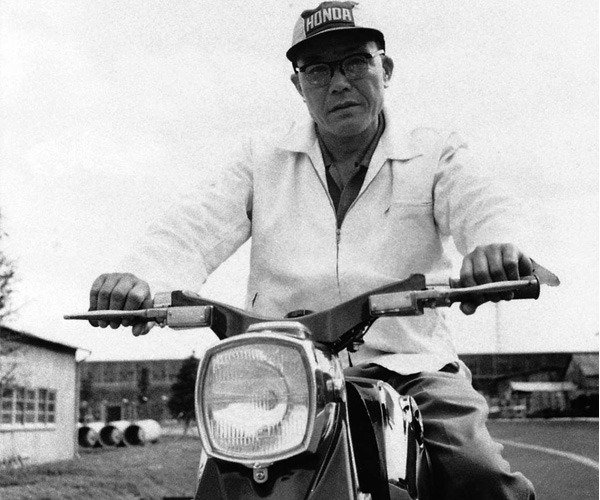 Soichiro Honda was a Japanese engineer and industrialist.
He started as an apprentice mechanic in Tokyo. After six years as an apprentice mechanic, he returned home in 1929 to open a shop that made piston rings. However, a wartime bombing and devastating earthquake meant he had to sell the remnants of his business.
In 1946, he had an idea to use surplus generators from World War Two to power bicycles.
In 1948, he teamed up with businessman Takeo Fujisawa to established Honda Motor Co., Ltd. He oversaw its expansion from a wooden shack manufacturing bicycle motors to a multinational automobile and motorcycle manufacturer.
3. Nissan – Yoshisuke Aikawa
Yoshisuke Aikawa was the founder and first president of Nissan. He was a graduate of Engineering of Tokyo Imperial University in 1903. He grew to be an entrepreneur, businessman and politician.
After Aikawa became president of a mining company , he created a holding company called Nihon Sangyo, which is Nissan for short.
4. Mazda – Jujiro Matsuda
Matsuda was a Japanese industrialist and businessman who founded automobile manufacturer Mazda Motor Corporation. He was the son of a fisherman and apprenticed to a blacksmith at the age of fourteen. He later on took over the management of  the foundry where he apprenticed.
5. Subaru – Chikuhei Nakajima
Chikuhei Nakajima was a Japanese naval officer, engineer, and politician, who is most notable for having founded Nakajima Aircraft Company in 1917, a major supplier of airplanes in the Empire of Japan. He also served as a cabinet minister. The Nakajima Aircraft Company later birthed the Subaru Corporation we all know today.
6. Suzuki – Michio Suzuki
Michio Suzuki was a Japanese businessman and inventor. He's known primarily known as the founder of the Suzuki Motor Corporation.
7. Mitsubishi – Yataro Iwasaki
Iwasaki Yatarō was a Japanese financier and shipping industrialist, and the founder of Mitsubishi.
All these founders of automobile companies in Japan in one way or the other placed Japan where they are today.
Don't forget to like, rate and share.