Gac Enpulse Concept Electric Sports Car Aims At Tesla Roadster (Photos)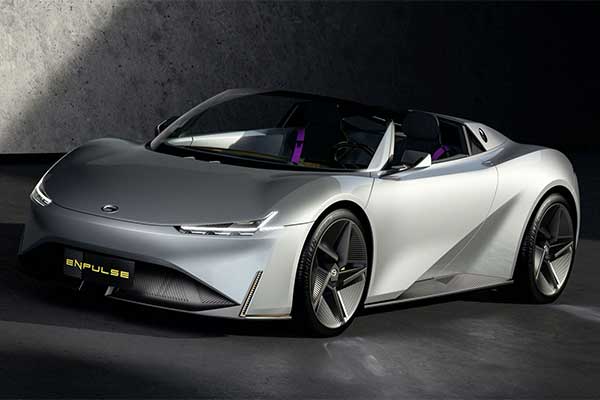 The Beijing Auto Show is still on in China and amazing cars have been displayed but one electric sports car that caught the eye of many is the GAC Enpulse Concept. The vehicle's main purpose is to take on Tesla's Roadster with its own technological advancement. Based on GAC's electronic modular platform, GAC Group hasn't announced any production plans, but says the concept is "production feasible."
The design on the Enpulse Concept electric sports car is unique as it boasts of better aerodynamics than a Bugatti Chiron which GAC calls Vector Energy design language. On the front, it mimics the profile of an aerofoil with its aerodynamic nature. The doors open skywards and they are electronically activated. The headlights look unique with its signum laser arc design. At the rear, a linear light blade dives into the diffusers replicating Formula 1 brake lights. The active aerodynamics are controlled by a twin spoiler. Other interesting details are the NACA-duct shaped vented rear deck which houses the retractable transparent hard-top. In addition, there's F1-inspired side mirror and active aerodynamics.
The GAC Enpulse features a simple and pure interior layout enabling passengers to see the structure and inner workings of the car. The highlights of the interior include a three-spoke steering wheel with high-tech digital screens. It has racing-inspired seats featuring two different materials and iridescent light tubular structures. The concept also features a wide front screen with advanced navigation, a head-up display, and Eco-friendly interaction capabilities.
No information about its specs but it features dual electric motors powered by a high energy density NCM lithium-ion battery.