Genesis Unleashes The Facelifted 2022 G70 Sports Sedan (Photos)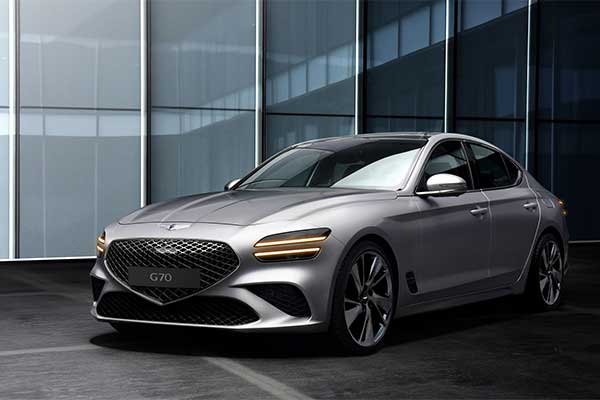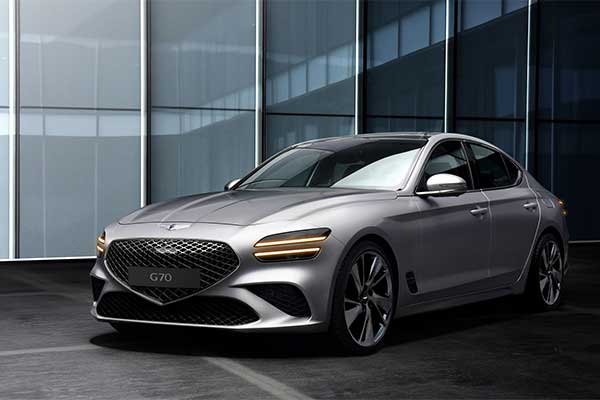 This year has been the year of Genesis as they have now unleashed their 2022 G70 sports sedan. The Koreans are not joking around as this sedan is gorgeous in all aspects. It will give its German rivals headaches when it officially goes on sale. Now Genesis says this is a facelift but this a serious change as the car looks totally different from the current model.  It takes most of its styling from its bigger siblings.
From the front, Genesis fitted new quad headlights that give the sports sedan a particularly athletic appearance. The front end also includes the Genesis signature crest grille as well as shapely new air intakes and a large lower grille. Fewer changes have been made to the sides of the 2022 G70 but there are air extractors just behind the front wheels. The rear has been completely overhauled as new quad taillights are fitted. The taillights are inspired by the soaring wings from the Genesis logo. The sedan also includes a body-coloured diffuser as well as oval exhaust tips.
Moving inside, the Genesis G70 boasts a driver-centric layout which has a large 10.25-inch infotainment system. The infotainment system comes with Apple CarPlay and Android Auto all integrated into the custom Genesis UI. Genesis has also positioned the wireless charging pad horizontally rather than vertically. Besides these changes, everything else seems the same.
The 2.0-litre four-cylinder will be replaced by a new turbocharged 2.5-litre producing 290hp and 310 lb-ft of torque. The top of the range engine will most likely be the same 3.3-litre twin-turbocharged V6 with 365 hp and 376 lb-ft. An 8-speed automatic transmission will be the only option as the 6-speed manual has been phased out.