Quick Guide To Buying A Used 2013-2020 Range Rover In Nigeria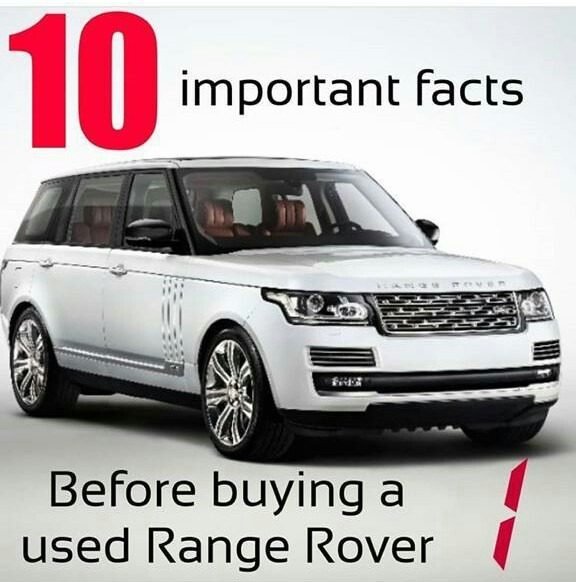 A Nigerian known as Range Rover Doctor on Instagram, shared a quick guide to buying a USED Range Rover L405 2013-2020 in Nigeria. According to him, the quick guide provide answers to 10 Questions he often get from prospective buyers of the Range Rover SUV (L405; 2013-2020).
According to him, "We thought it wise to share this useful information with you because you may need it someday. This post will also clear the wrong notions some people have about the Range Rover that may be deterring them from owning one".
Range Rover Doctor knows his onions and has been in the business of taking care of Range Rover vehicles for over 11 years. He offers services like Land Rover Automobile support, Parts, Repairs, Sales,Tech Training School, Consultancy. He's also a Landrovers & Automobile Vlogger.
Below are the 10 questions and their corresponding answers.
Question 1:
What year were they made?
Answer
Shape was introduced in 2013, with interior upgrades in 2016/2017 and a fresh square (OYO) headlamps and interior in 2018.
Question 2:
What are the different types and which is best?
Answer
They come in so many variants but quick to note is common Engines in Nigeria are
V6 Diesel
V8 Petrol Normal aspirated (Non Supercharged)
V6 Petrol Supercharged
V8 Petrol Supercharged
Best option to go for is the V8 Petrol supercharged. Avoid the Diesels at all cost. Also important to note the Autobiography which comes with loaded features most of the time and includes the separated rear captain seat module. And if you see an L by the front door means the Long Wheel Base with longer rear seat space.
Question 3:
How much do they cost to buy in Nigeria?
Answer
At this particular time and date anywhere between N12 Million for V6 Diesels to N14 Million for entry level locally used vehicles, and N19 – N25 Million for freshly imported cars (Tokunbo) and all the way up from N25 to N50 Million for different years and Models depending on state and mileage. Expect newer more recent prices to go as high as N40-N80 Million.
Question 4:
How much will it cost me to fix and run?
Answer
This depends on the state of vehicle you have purchased, for proper maintenance to be fully prepared, while it might not be that much, let's say for a 50,000 mile vehicle budget an initial N1 Million extra for any surprises. For a vehicle in prestine state, budget a yearly service cost of about N500,000 which includes 3 major regular service and 2 Brake pad change.
Question 5:
What are the common faults with these Models?
Answer
The V6 has had major DPF driving style failure and failed engines and typical for the petrol models are:
A) Failed water pumps
B) Front suspension knocks and shock failure
C) AC filter regular clogs
D) Audio Amplifier Failure (expensive fix)
E) Water and roof rust ingress
F) Surface of buttons sticky and peeling
G) Door Latch failure
H) Transfer case failure and clonky noise while turning.
Question 6:
With all these noted in question 5, are they not problematic and expensive to fix compared to other Brands?
Answer
Range Rovers are luxury SUV brands and when compared to other luxury high performance SUVs from Europe they are not problematic, they just need preventive maintenance and this is where it is pertinent to explain the facts that these cars were made with performance, safety and luxury in mind with the best of parts inclined to these factors. So your safety is not compromised just because they want the car to last longer. With premium performance, safety and luxury comes a price of maintenance.
Question 7:
Why should I buy a Range Rover?
Answer
Just like I state in all my reviews, The Range Rover has a perfect balance of off road and on road characteristics and seals it with the opulence of high luxury sedans. There is practically no other car that will fit that position, so if you feel you have earned a position where you can afford it and want to be driven or want to drive in style and safety as well as race that highway without fear still appearing regal at any function then the Range Rover is your perfect choice.
Question 8:
Are they Good for Nigerian Roads?
Answer
Range Rovers were manufactured to present a luxurious version of the rugged off roader and the tradition still sticks till today. Unlike many other cars that you hear "TROPICALIZED" Every Range Rover has been built with a Shield and Sword in hand prepared for battle. An American manufactured Range Rover has been built with the intention that the owner might one day choose to adventure "ABOVE AND BEYOND" all the way to Ethiopia and the Wild desserts of the Far East. Your Range Rover was built prepared.
Question 9:
So what do I have to worry about using it in Nigeria especially the FUEL system?
Answer
The Octane levels of local fuel is known to be very low, it is advisable to use accredited and recommended Octane booster when refuelling. It is also advisable to run our recommended maintenance schedule because of Nigerian traffic, driving habits and weather.
Please DM me or email us…. [email protected]… for personalized maintenance advice to give your Range Rover that manufacturer intended motoring longevity.
Question 10:
Do you offer inspection services and advice if I am buying so I don't make a painful mistake?
Answer
Yes we offer professional vehicle inspection; we are able to inspect your vehicle anywhere in Nigeria so you don't make a painful irreversible purchase. We can also send you a Quote for repair costs on faults from potential buys. Please DM for inspection costs. We also offer less expensive e-inspection and consultancy. Please DM me or email us [email protected] for personalized maintenance advice to give your Range Rover that manufacturer intended motoring longevity.
Credit: Range Rover Doctor [Instagram]
Don't forget to like, rate and share.