Honda Preparing An 800 Hp CR-V Hybrid Race Car, Debuts February Ending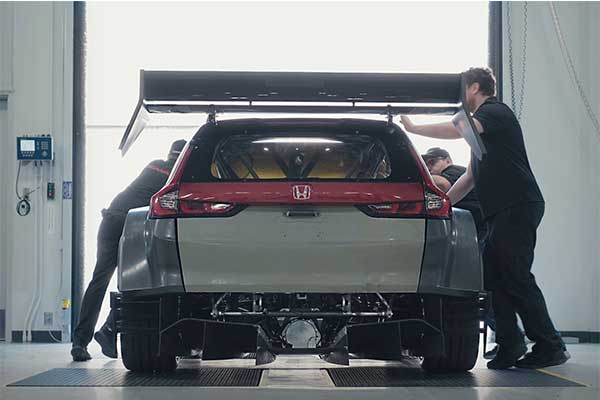 Honda Performance Development appears determined to push the performance limits of the  2023 CR-V. The racing and performance arm of the Japanese automaker teased an 800-hp race-ready CR-V to whet enthusiasts' appetites for high-powered four-wheeled machines.
Teaser photos released by Honda hint at a vehicle that only bears a superficial resemblance to the road-going CR-V Hybrid. The entire rear section of the body—including the hatch and rear doors—lifts up as one clamshell section, while the driver enters and exits through what appear to be Lamborghini-style scissor doors.
Typical racing modifications can be glimpsed as well, including a massive rear wing, and a complex aero arrangement for the front bumper. There also appear to be air intakes on the body sides, suggesting a mid-engine configuration. Instead of seats for the kiddos, teaser images showing part of the engine and chassis has us thinking a version of the V6 hybrid powertrain from the NSX is nestled in there.
It remains unclear what drivetrain will power Honda's upcoming CR-V Hybrid Racer Project Car, but the 2023 CR-V Hybrid is powered by a 2.0-liter four-cylinder engine that is coupled to a pair of electric motors that combine to make a relatively measly 204 hp (152 kW/207 PS).
The CR-V Hybrid may not seem like the ideal basis for a race car, but Honda is eager to promote this model, seeing increased hybrid sales as a step toward greater electrification. Beginning with the 2023 model year, Honda aims to make hybrids 50% of CR-V sales in the U.S. It's the first step in a gradual electrification strategy that will see the launch of the Honda Prologue and Acura ZDX electric SUVs, as well as a CR-V powered by hydrogen fuel cells, in 2024, followed by the first EVs for the Sony-backed Afeela brand in 2025.