Hyundai Unveils Most Powerful Elantra N Variant That Outputs Almost 300 Hp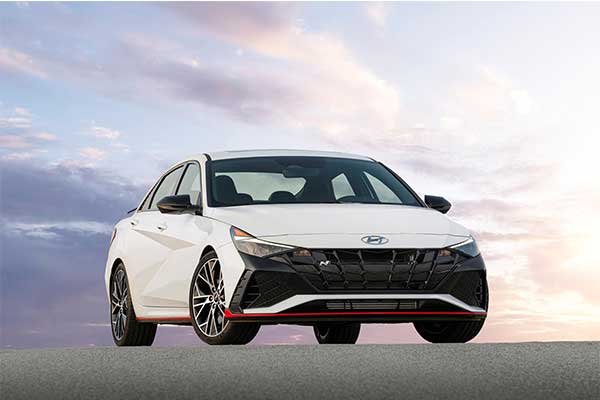 After a long tease, Hyundai finally unveils the 2022 Elantra N which is the most powerful variant. The model was supposed to be launched officially at the New York Motor Show but as it was cancelled due to covid, a virtual approach was used.
Powering the Elantra N is a 2.0-litre turbocharged, direct-injected flat-power engine generating 276 horsepower from 5,500-6,000 rpm and 289 lb-ft of torque from 2,100 to 4,700 rpm.  Something that Hyundai is calling "N Grin Shift" (NGS), though, will give you up to 286 hp (289 PS/213 kW) by temporarily utilizing turbocharger overboost and maximizing transmission response for up to 20 seconds at a time. The company has also worked to reduce the cool-down time between NGS boosts to 40 seconds so that it can be used lap after lap on a track. Expect a 0-60 time of 5.0 seconds with the eight-speed dual-clutch transmission or 5.2 with the six-speed manual.
Inside, N branding is applied to the steering wheel, shifter, seats, door scuff panels, and metal pedals. The lightweight sport bucket seats are 0.3 inches lower compared to the standard Elantra seats and the backrests are two inches thinner, resulting in more rear legroom. The unique digital cluster is tailored for high-performance track driving, presenting information such as oil, coolant, torque, and turbo meters and the infotainment display features unique graphics designed to make the driver "feel as if they are sitting in a dynamically moving VR game seat while watching a racing game screen."
In a statement, Vice President and Head of N Brand Management & Motorsport sub-division at Hyundai Motor Company Till Wartenberg said "Hyundai Motor's high-performance N brand constantly aims to provide customers with a range of exciting choices for increased driving pleasure,". He further added, "ELANTRA N is the purest expression of our mission to date."