Infiniti reveals Q Inspiration Concept ahead of 2018 Detroit Motor Show debut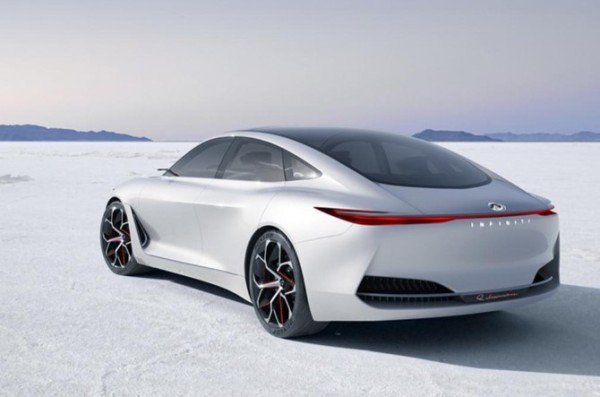 Infiniti has revealed a new Detroit Motor Show bound concept car, which will be used to showcase a new-generation design language for Nissan's premium sub-brand.
Called the Q Inspiration concept, it's a svelte saloon with an elongated coupe-like rear end. At the front, the thin headlights are mounted in deep recesses while the unusual shark nose gille is body-coloured with a large chin spoiler beneath. Dramatic sculpted flanks accentuate the rear haunches of the car while a new LED taillight design spans the width of the back end.

Infiniti has only released two complete images (one front and one rear) of the new concept car so far, with a full reveal and a first look inside reserved for Detroit. A previous teaser image suggested that a new grille, and sharp, thin headlights will define the concept's front end. The company is billing the Q Inspiration as "the first manifestation of Infiniti's new form language".
According to Infiniti Executive Design Director Karim Habib, the new concept car will "take the traditional sedan architecture to its next stage of evolution". Habib hints that it could be a rakish four-door coupe, thanks to the car's "long cabin, balanced proportions and muscular stance".

The Q Inspiration Concept is the first major project overseen by Habib at Infiniti. The firm's new lead designer joined the Japanese luxury marque from BMW last year.
Infiniti has let little else slip about the design study, but it has been hinted that an all-electric powertrain has been envisioned under the skin.
"Our Detroit concept car heralds a new generation of Infiniti. A seamless and stunning new design philosophy demonstrating Infiniti artistry in the new age of autonomy and breakthrough drivetrains", said Alfonso Albaisa, Senior Vice President of Global Design at Infiniti.
culled from AutoExpress