Jeep Teases A Concept Vehicle To Celebrate Rubicon Trim's 20th Anniversary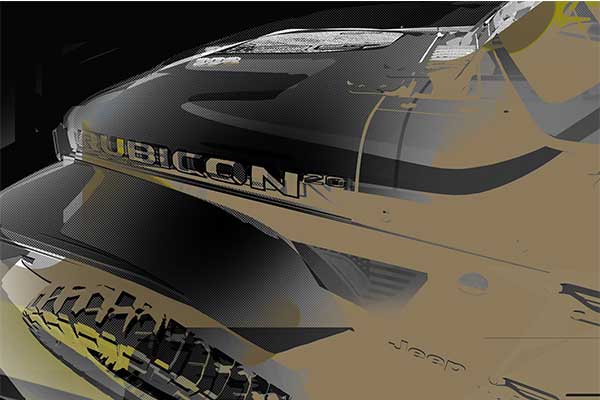 Jeep today teased the latest concept it's preparing for its annual celebration of all things off-roady. Although its official name has not yet been released and details are sparse, the model seems to be celebrating the 20th anniversary of the Rubicon trim.
Set to be launched in April in an event called Easter Jeep Safari, the world's largest gathering of Jeep fans. It's an annual event when Jeep launches a new concept vehicle as they launched the Magneto concept last year.
This year a new concept will be launched although, from teaser images, it looks like a Wrangler but has a Rubicon 20 batch on the hood. The "20" might be the most obvious hint, but look a bit closer towards the centre of the hood and you'll spot a blurry "392" emblem. This suggests that Jeep's latest concept will be based on the V8-powered Wrangler. Lastly, we see an American flag on the fender, not unlike the Wrangler Freedom Edition. Add it all up, and you come to a fairly straightforward conclusion. One of the concepts will be a 20th-anniversary Wrangler Rubicon 392 Hemi, possibly with some kind of Freedom or Built To Serve package. Rubicon 392.
The Jeep Wrangler Rubicon 392 Launch Edition's 6.4-litre engine pumps out 470 hp (350 kW/476 PS) and 470 lb-ft (637 Nm) of torque. It's paired with an eight-speed automatic transmission and a four-wheel-drive system, which helps the SUV get to 60 mph (96 km/h) in 4.5 seconds. Making it the most powerful Wrangler ever built.
In addition to the 20th anniversary Rubicon, Jeep already teased two other concepts coming to this year's Easter Safari. These include a concept based on the latest Grand Cherokee (possibly the plug-in hybrid 4xe model) and another based on the Gladiator pickup truck. The latter teaser is made up entirely of QR codes, hinting at some new scanning method from Jeep Performance Parts.