Joe Biden Trips 3 Times While Climbing The Stairs Of Presidential Aircraft (VIDEO)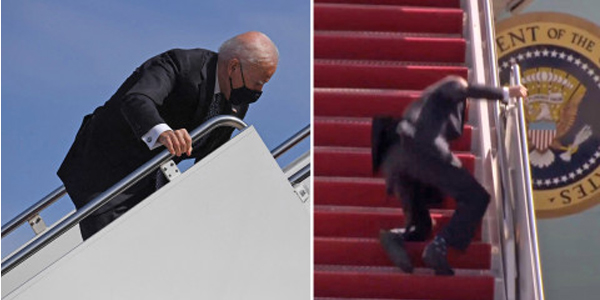 US President, Joe Biden, was caught on camera tripping three times in a row while walking up the stairs of the Presidential aircraft, Air Force One.
The 78-year-old tripped twice before falling over the third time as he ran up the stairs of the idling aircraft at Joint Base Andrews.
After recovering, Biden appeared to take a moment to dust off his knee. He finally made up his way to the top.  Presidential Aircraft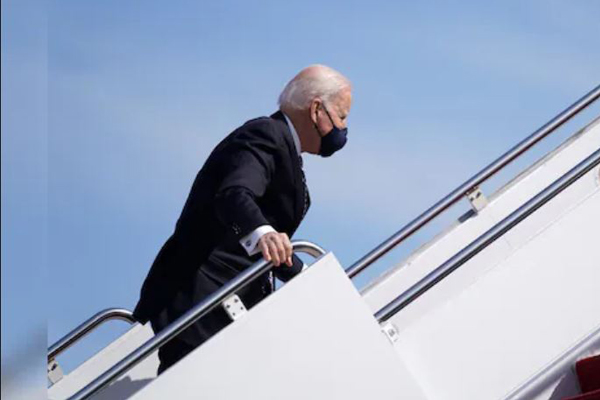 Biden did not appear to injure himself, and managed to regain his composure to walk up the remainder of the staircase without any apparent injury. He then gave a salute to waiting servicemen after making it to the top of the red-carpeted staircase.
The president and Vice President Harris are set to meet with the Asian community in Atlanta following Tuesday's mass shooting at area spas and massage parlors that left eight people, including six Asian women, dead. Presidential Aircraft
Watch the video below.
VIDEO
Biden is the oldest president ever to be elected President of the United States. He was repeatedly attacked by his predecessor Donald Trump, 74, as being too old for the role.
Trump branded Biden 'Sleepy Joe' and accused him of 'hiding' in his basement during last year's campaign. Team Biden vehemently refuted those claims, and said their candidate was trying to stay safe during Covid-19. But Friday's incident is set to further fuel speculation about Biden's health and fitness for office. Presidential Aircraft
He has also been criticized for failing to hold a press conference since his inauguration on January 20. He will finally take questions from journalists next Thursday. Presidential Aircraft
President Biden and Vice President Kamala Harris are both visiting the city. This is happening in the wake of shootings at three spas in the city on Wednesday evening that killed eight people.