Checkout The Mind-boggling Garage Of Warri Billionaire Kenneth Bramor (VIDEO)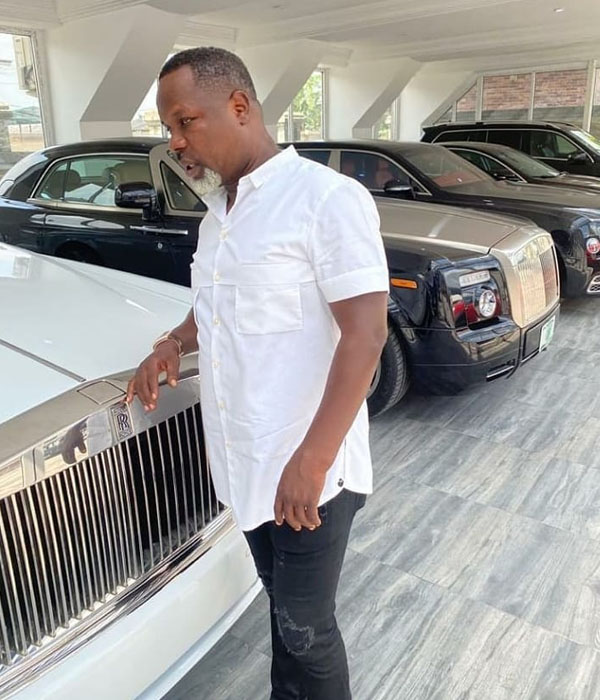 A video of an opulent edifice recently went viral on social media. Kenneth Bramor
The mansion has two indoor garages with a mind-boggling array of luxury cars.
The eye-popping collection of cars in the garages included: a Rolls Royce Phantom Coupe, Bentley Mulsanne, Rolls Royce Phantom, 2 Jaguar XJ, Mercedes-Benz X Class, Mercedes-Benz GL, 2 Range Rovers, Toyota Tundra, Toyota Corolla, etc.
In the viral message that was shared with the video, the ownership of the mansion and cars were erroneously credited to Senator MAO Ohuabunwa, representing Abia North.
However, it was later revealed that the sprawling mansion, together with the astonishing cars, belong to Chief Kenneth Bramor.
Chief Kenneth Bramor is a billionaire oil and gas entrepreneur and philanthropist. He is based in Warri, Delta State, Nigeria.
Watch the video below to behold the opulent mansion and luxury cars. Kenneth Bramor
VIDEO
Ken Bramor And Expensive Cars
Ken Bramor gained prominence in November 2017. This happened when he gave out two brand new Toyota Camry cars as souvenirs during his wedding to his second wife, the popular Lagos-based Interior designer, Ehi Ogbebor.
In August 2018, Bramor gifted his UK-based first wife, Timi, a gift of a Rolls Royce. According to reports, the Rolls-Royce cost about N300 million. Kenneth Bramor
Reportedly, he bought her the luxury ride to appreciate her for being with him since day one. It was also intended to appease her for all the hurt he caused the mother of his four kids by marrying a second wife. The gift came barely 9 months after Bramor took Ehi Ogbebor as second wife.
In January, 2019, Ken Bramor, a former Niger-Delta militant, acquired a brand new 2019 Bentley Mulsanne Extended Wheel Base.
He thus became the first person in Nigeria to have the 2019 version delivered to. Kenneth Bramor