Land Rover Defender 90 V8 3-Door Is A Unique SUV And The Last Of Its Kind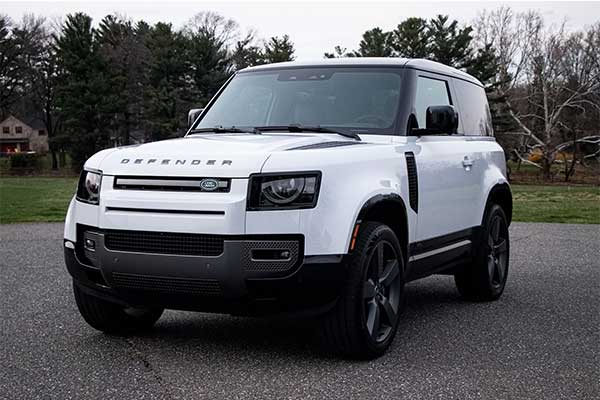 The Land Rover Defender's latest model is a few years old and available in lots of options ranging from different trim levels to engines but one particular model is the only one to remain in the modern era, that model is the Defender 90 (3-door) V8.
We already know that despite the fact that the Defender rivals traditional body on frame SUVs like the Jeep Wrangler, Ford Bronco and to a little extent the Mercedes-Benz G-Wagon with all fitted with an optional V8 (except the G-Wagon that has a V8 as standard), these SUVs don't offer the same V8 option for their 3-door variant (G-Wagon discontinued the 3-door variant some years ago).
The Defender is not a small vehicle, but opting for the two-door 90 model makes it far more palatable for in-town and city driving. The Defender 90 stretches just 170.2 inches long, not including the spare tire, while the four-door Defender 110 is a whopping 17.1 inches longer. You are going to notice that nearly a foot and a half missing when parking. Nearly all of that missing length comes directly from the wheelbase, shrinking from 118.9 inches on the 110 to just 101.9 inches on the 90. Those shorter dimensions yield a better turning radius, break-over angle, and approach and departure angles.
Powering the Defender 90 V8 is a 5.0-litre monster making 518 horsepower and 461 lb-ft of torque. It's mated to an eight-speed automatic and four-wheel drive. According to Land Rover, the Defender 90 V-8 can hit 60 mph in 4.9 seconds, while its top speed is limited to 149 mph.
Not much is changed inside the Defender 90 V8 compared to a 110 or a lesser-engined model. The cabin is as nice as a modern Defender can get, with Ebony Windsor Leather mixed with rugged Miko Suedecloth.
In more ways than one, the Land Rover Defender 90 V8 is a "get-it-while-you-can" type of vehicle. We aren't sure how much longer Land Rover will continue building a two-door Defender, much less a version with a supercharged V8.