This 2017 Land Rover Discovery Comes With A Kitchen (Photos)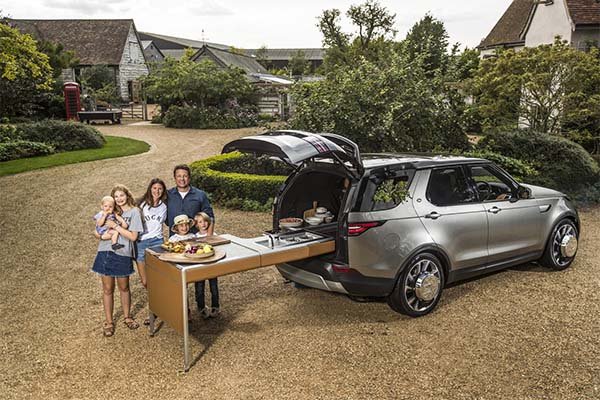 Jaguar Land Rover's Special Vehicle Operations (SVO) worked with lifelong Land Rover fan and customer, Jamie Oliver who is a chef, to bring his vision to life. The result is truly unique – it's the only Discovery in the world that has a toaster in the centre console and a rotisserie driven by the power take off. Other ingenious features include a slow-cooker that sits beside the engine, a pasta maker, a gas hob and a deployable dining table and worktop. There is even a herb garden and spice rack in the rear windows.
With up to 2,500 litres of luggage space and clever storage for 21st century family essentials, the versatile seven-seater Discovery was the perfect vehicle for SVO to modify. With plenty of room for a custom-made aluminium sink, a flat screen TV and deployable kitchen worktop that also doubles as a dining table. Further touches include a spice drawer, a bespoke pestle and mortar and a Land Rover barbecue.
Jamie Oliver Said "I gave Land Rover a massive challenge to create the ultimate kitchen on wheels. I dreamt big and asked for a lot, and what they've done has blown my mind. I didn't think they'd actually be able to put a slow-cooker next to the engine and an olive oil dispenser in the boot, but they did. The result is an amazing Discovery, tailored perfectly for me and the family – we love it. This unique creation means we can take our culinary adventures to the next level".
See Related Post Discover the all new 2017 Land Rover Discovery
Feature
Specification
Summary & Location
Slow Cooker
4.7 litre capacity
Engine bay mounted
Living Herb Garden
Accommodates 8 herb plants
Custom made external access: Rear window – right
Spice Rack
11 spice pots
Custom made external access: Rear window – left
Spice Drawer
5 extra, hot spice pots
Integrated in slide out worktop
Olive Oil & Vinegar Dispenser
500ml each
Via Indicator stalk dispensers mounted in tailgate
Fold and slide out kitchen worktop
1.1 metres wide & 1.5 metres tall, 2 X gas hobs & sink
Aluminium frame with Leather wrapped cladding and veneered surface
Fold out cinema screen
40" flat screen TV with connectivity
Integrated in slide out worktop area

HDMI/WiFi/USB input

Salt & Pepper Grinder
Selections adapted from a PRNDL(s) gear shift: P = Pepper, S = Salt, N = Nothing
Developed from the original gear selector from the car
Butter churners
3 churns – 5 litres each
Wheel mounted machined aluminium casing, counterweighted stationary receptacle & wheel nut connected paddle
Ice Cream Maker
1 churn attachment, 5 litre capacity
Wheel mounted machined aluminium casing, counterweighted stationary receptacle & wheel nut connected paddle
Integrated Toaster
Two slice
Centre console mounted toaster
Jam store
3 pots & 1 knife
Jam store behind climate control
Rotisserie & pasta cutter
Extends 1.6m when deployed
Front mounted rotisserie and pasta cutter drive behind Land Rover badge, , holds up to 3 average chickens or 1 turkey / leg of lamb / small piglet
'Piston' and Mortar – bespoke Pestle & Mortar
150mm tall x 76mm

diameter

Loose cooking accessory, aluminium construction & weighted Pestle
Bespoke Land Rover BBQ inspired by Grille
Dual folding grill to be mounted on foldable metal table
Loose cooking accessory with grill rack inspired by a Land Rover grille, encased within a standard 25L modified Jerry can
See Related Post Discover the all new 2017 Land Rover Discovery