Land Rover Launches An Even Larger Defender 130 That Seats 8 In Luxury
Land Rover just released its flagship variant of the Defender SUV called "Defender 130" which is the longest of the range and is more luxurious than the standard 90 and 110 versions.
As is evident from the images, the Defender has been extended by 13.38 inches at the rear to make space for three rows of seats, transporting 8 people in total. Land Rover claims that there's enough space in the third row to comfortably seat 3 adults. Regardless, Land Rover appears to have looked to maximize comfort for all by offering heated seats, padded armrests, storage bins, and UBC-C ports in the last row.
Those who simply want more cargo space can buy the Defender 130 in a 5-seat configuration. In that case, cargo space expands to a positively cavernous 46.9 cubic feet. Fold the second row down and you'll find 88.8 cubic feet worth of cargo space. It's not just the big back end that's unique to the 130 though as loading stuff into the trunk is made easier thanks to a button in the load area which controls the SUV's air suspension.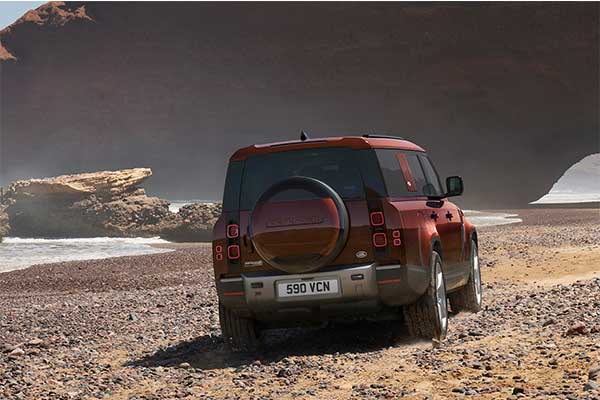 The standard equipment of the Defender 130 includes a 10.25-inch infotainment screen and an 11.4-inch instrument cluster display (standard on the X specification). Making its debut on a Defender is the Cabin Air Purification Plus system, which uses a patented technology for the reduction and pathogen removal of nanoparticles eliminating odours and viruses. New colour combinations and trim finishes are available exclusively on the three-row Defender. Each row gets its own ventilation system and there's an optional four-zone climate control exclusive to the Defender 130. Getting into the third row is effortless, the automaker promises, thanks to the foldable and moving the second row of seats
While the 90 and 110 are offered with a V8 engine, the 130 is 6-cylinder-only — for the time being, at least. The entry-level engine is a 3.0-litre straight-six that's turbocharged to develop 296 horsepower and 347 pound-feet of torque. Alternatively, an evolution of this 6 rated at 395 horses and 406 pound-feet of twist is available. Both work with a 48-volt mild-hybrid system, and both spin the four wheels via an 8-speed automatic transmission. The 130 hits 60 mph from a stop in 6.3 seconds in its quickest configuration, which is plenty all things considered, and it's capable of hauling and towing 1,760 pounds and 8,200 pounds, respectively.