2023 Toyota GR Corolla Becomes Even Hotter With Morizo Edition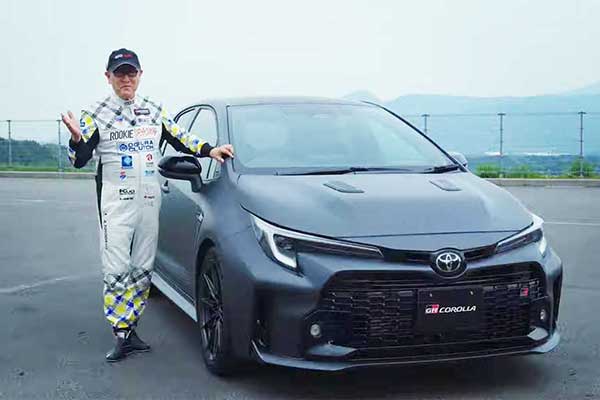 Toyota has turned up the wick on its Corolla with the new GR Corolla hot hatch introduced for 2023, and for a few lucky buyers—200 to be exact—there will be an extra spicy GR Corolla Morizo Edition featuring the specification of Toyota President Akio Toyoda.
The GR Corolla Morizo Edition's moniker comes from the nickname for Toyota president Akio Toyoda. The special model uses the Circuit Edition trim level as a starting point and creates an even more track-capable machine.
For his ideal GR Corolla, power from the standard car's 1.6-litre turbocharged inline-3 remains unchanged but torque is bumped from 273 lb-ft to a new total of 295. The standard 6-speed manual and all-wheel-drive system also remain, but the transmission has closer ratios and shorter differential gears for improved acceleration across the power band.
The Morizo is distinguished by its more aggressive exterior with a large open grille and additional venting for the brakes as well as air extractors on the hood. At the rear is a large diffuser flanked by additional venting from the muscular rear wheel arches.
Complementing the added torque are a series of weight-saving measures that mean the Morizo Edition weighs almost 100 lbs (45 kg) less than the Circuit Edition. These savings were made by removing the rear seats, rear door speakers, rear window regulator, rear wiper blade and motor, and new 18-inch forged wheels wrapped in Michelin Pilot Sport Cup 2 tires. Other lightweight components of the Morizo Edition include a forged carbon-fibre roof, an aluminium hood, and aluminium front door panels. New front brake ducts have also been fitted.
The Morizo Edition's cabin has upholstery in a mix of Brin Naub faux suede and synthetic leather in a black-and-red colour combo. The rear area has two braces for extra structural support. Toyota claims there's enough space back there to fit four tires for a track day.