Late Oni Of Ife's Daughter-In-Law Celebrates Her Husband For The Gift Of A Benz G-Wagon (PHOTOS)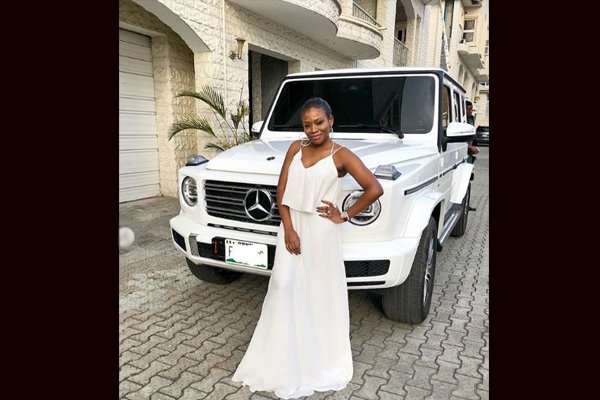 Actress and TV personality, Dolapo Oni-Sijuwade, who is married to the son of the late Ooni of Ife, Prince Adegbite Sijuwade, took to Instagram, on her birthday, to express gratitude to her husband for the gift of a Mercedes Benz G-Wagon.
The Desperate Housewives star and former Moments With Mo co-host, in  an Instagram message, wrote:
"So it's officially my birthday but I want to celebrate my husband. Gbite you are truly amazing. Thank you for being super supportive. It is not even possible for me to describe what you do for people you know and those you don't know. You are just amazing. Thank you for my new whip that you got me a few months ago. My Christmas, Easter, Mother's Day, birthday present all rolled into one lol. Okay on a serious note though. May the goodness and mercy of the Lord be with you. May God bless the work of your hand and may you never labour in vain. May God continue to bless and keep you my love. Happy Birthday to Me"
Her husband, more popularly referred to as "Gbite" or "The Gbi", is one of the sons of the late Imperial Majesty (Dr.) Okunade Sijuwade Olubuse 11, and he is a director in the family conglomerate, The Sijuwade group.