Latest BMW M4 Given To MotoGP Winner Ahead Of Official Release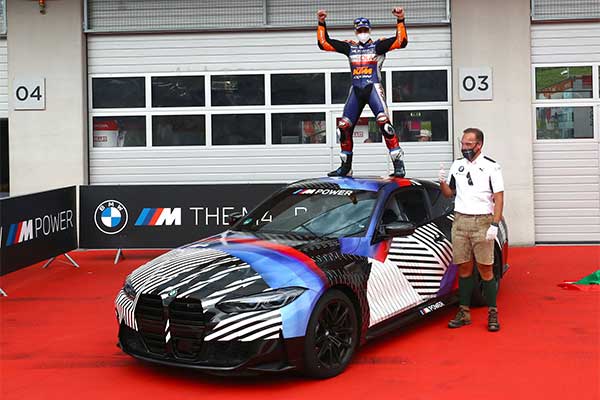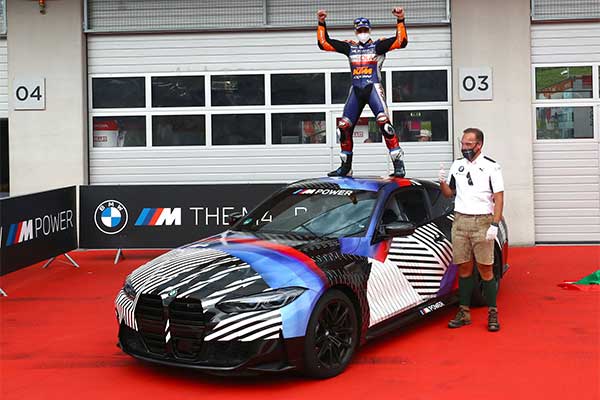 The 2021 BMW M4 hasn't been launched yet but someone has already been given the vehicle. Well, the person is not an ordinary person as he is the winner of the MotoGP Miguel Oliveria. Actually, BMW sponsored the event at the BMW M Grand Prix of Styria over the weekend. Miguel is officially the 1st one to own and drive the 2021 M4.
Upon receiving the keys, Miguel spoke"Wow, it's amazing. I'm over the moon to be the first MotoGP rider to receive such a special prize," Oliveira added. "I've got to know the new BMW M4 here at the Red Bull Ring and can't wait to have my one of my own. I'd like to thank BMW M for this fantastic prize."
In a congratulatory message, BMW M chief executive Markus Flasch said in a statement. "A fantastic performance saw him outpace the fierce competition in the MotoGP race. As a long-standing partner of Dorna and title sponsor of the event, we are delighted to honour Miguel with the new BMW M4 as a reward for his victory. But he will have to wait a little while to drive his BMW M4. The car is so new that it isn't actually on the market yet. However, we're confident that he will have a lot of fun with it – as the first test drive shortly after the race has already proved."
The 2021 BMW M4 will be powered by a twin-turbocharged 3.0-litre straight-6 engine that outputs 473 hp. It is also mated with a 6-speed manual transmission. Then, the Competition package will have a power bump to make it 503hp mated with an 8-speed M Steptronic transmission and rear-wheel drive. An optional xDrive (AWD) in later production of the vehicle.