Lincoln Referesh The Naulitus SUV For 2024 With A Massive 48.0 Inch Screen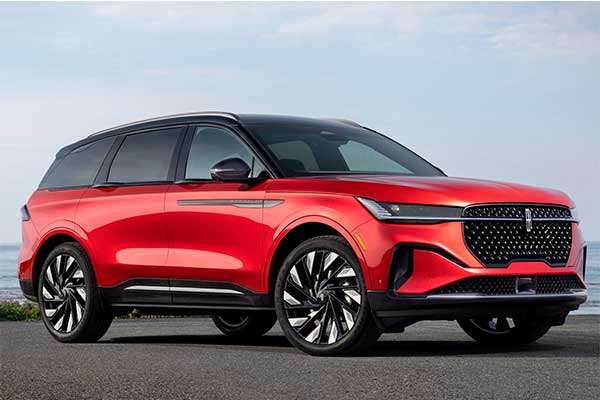 The 2024 Lincoln Nautilus was revealed today, showing off a handsome exterior and a high-tech cabin with a 48.0-inch display spanning the width of the dashboard. This is the first major update since the MKX crossover took on the Nautilus moniker in 2019, and the new generation of Lincoln's two-row mid-size SUV also adds a hybrid powertrain.
Starting with the new exterior, the Nautilus makes its entrance with a large grille — depending on the trim you select, four distinct patterns are available. No matter the trim, a new daytime running light runs horizontally through the grille and connects with the headlights. Lincoln played it safe with the sculpting along the sides, but the door handles are newly integrated and sit at the same level as the door trim itself. The rear mimics the front with a full-width taillight. Hidden exhaust outlets give the rear end a clean and uninterrupted look.
Inside is where the fun begins as the Nautilus comes with two 24.0-inch screens joined to create a massive 48.0-inch unit stretching across the entire cabin, controlled by an 11.1-inch touchscreen that sits closer to the driver. Lincoln says that the screen helps drivers remain focused on the road by keeping important information higher in their sight line. The display is easily customizable by dragging and dropping different widgets from the touchscreen below, while a "calm" mode completely shuts off the right side screen. The 48.0-inch display flows into a unique trim piece on the doors with wave-like surfacing and is backlit by LEDs that can change colors.
On the engine front, we bid farewell to the V6. A pair of turbocharged 2.0-liter engines are all that's on offer, with the base option producing a targeted 250 horsepower and 275 lb-ft of torque. This variant receives an 8-speed automatic transmission as standard. The new hybrid model also has a turbocharged four-pot but serves up a meatier 310 hp. Unfortunately, power is funneled through a continuously variable transmission (CVT).