Lotus' Electric Sedan (Type 133) Envya Spy Photos Caught Testing In The Snow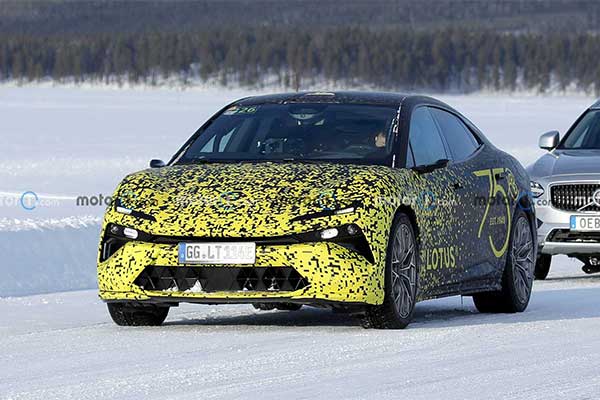 Lotus Envya (Type 133) electric luxury sedan has been caught testing in the snow (near the arctic circle) with minimal camouflage. The Type 133 will be similar in its conception to sibling brand Polestar's 5 grand tourer, due on sale around a year later, in 2024. But the two cars will be tangibly differentiated, despite their shared Geely Group origins, suggested Lotus managing director Matt Windle.
The images show a car that bears a strong resemblance to the company's Eletre SUV thanks to its diamond-pattern active lower grille, the double-deck headlight arrangement, camera-based door mirrors, rising waistline, and recessed door handles.
But it's not simply a squashed Eletre. The Envya asserts its independence with a hood that plunges between front fender peaks and a fastback rear end in the style of an Audi A7. Around the back, the Type 133's details are harder to see due to the final taillights not being installed. But it does appear to be getting full-width units, and there are some diffuser-like details in the rear bumper.
Further details of the Type 133 remain under wraps, but using the 592bhp twin-motor drivetrain from the launch-spec Eletre would line the saloon neatly up against the Porsche Taycan GTS, leaving ample room above and below for both softer and more hardcore additions to the line-up.